What a Trump Presidency Means for Value-Based Care and the ACA
The future of the Affordable Care Act is up for debate after Donald Trump's surprise victory, but value-based care is likely to remain a guiding force in the healthcare industry.
Source: Thinkstock
Love it or loathe it, the United States is headed for four years of drastic policy changes under a Donald Trump administration, giving lawmakers another good chance to repeal, replace, or revise the Affordable Care Act.
The landmark healthcare legislation was the centerpiece of one of the most contentious campaigns in American history. Staring down anticipated premium hikes of up to 25 percent on the public health insurance exchanges, millions of concerned citizens voted for the candidate they felt was most likely to make positive changes to a system that has never quite managed to address their needs.
The impact of a Republican Congressional majority, a Republican President, and a vacant seat on a Supreme Court that already struck down one of the ACA's major provisions is as of yet unknown, but a conservative twist to our national drama will certainly bring the future of the healthcare coverage framework into question.
For healthcare provider organizations, the plot will thicken even further. Thanks to provisions that require payers to cover patients with preexisting conditions and adhere to premium caps that have reduced their profitability, the ACA has incentivized a quick shift towards value-based care.
Eager to trim costs, pay for fewer services, and attract as many patients as possible in a competitive and confusing marketplace, payers have incentivized providers to abandon the traditional fee-for-service reimbursement structure and look to population health management strategies as a way to stem the financial bleeding.
Will significant changes to the Affordable Care Act free up payers to return to more lucrative business practices, or will commercial insurers, Medicare, and Medicaid stay the course?
How can healthcare providers position themselves for success in what will undoubtedly be another turbulent episode in the healthcare saga, and what are the nation's options for developing a new path forward while still delivering the best possible care to its patients?
---
The Progress and Challenges of the Affordable Care Act
---
What are the Republican plans for Obamacare?
While it is unlikely that the Affordable Care Act will remain in its present state long after January 20, it is equally unlikely that Republican lawmakers will completely undo everything related to what is commonly known as Obamacare.
The Republican party has successfully rallied its voters around the idea of a total repeal, largely due to their animosity towards the individual mandate and the Medicaid expansion requirements. But legislators generally understand that something must fill the hole left by ripping out the roots of the ACA. A full repeal is not possible without Democratic approval, since Republicans do not hold 60 seats in the Senate.
Scrapping the plan in its entirety without including an alternative framework would leave at least 20 million Americans who receive coverage through the exchanges with no insurance, and no guarantee of being able to afford – or being approved to receive – coverage ever again.
Several popular provisions, including the pre-existing condition clause and the ability to remain on a parent's health insurance until age 26, are likely to remain part of any Republican plan to replace the law, and do indeed feature prominently in the party's more serious suggestions for the future.
That being said, it is highly likely that a Republican-controlled Congress will manage to get a budget reconciliation bill to Trump's desk that will dismantle many core elements of the law. The pre-existing condition clause cannot be repealed through the reconciliation process, NPR White House Correspondent Scott Horsley has pointed out.
But plenty of significant changes could be pushed through with this tactic, include eliminating tax subsidies for premiums, rolling back Medicaid expansion, and nixing taxes levied to pay for some provisions of the law. President Obama vetoed such an action at the beginning of 2016, but Trump will undoubtedly sign a similar bill when given the chance.
All eyes will then turn to how the Republican party plans to implement their own ideas to shore up the integrity of the nation's healthcare system. Since 2009, conservative lawmakers have volunteered several alternatives to the ACA, and Trump has recently offered his own take on the next steps for the insurance industry.
The Patients' Choice Act
House Speaker Paul Ryan (R-WI) first released his ideas for the future of healthcare in 2009, stressing a framework that keeps preventive services, population health management, and broad coverage options as high priorities, but diverges significantly from the ACA on the financial front.
The Patients' Choice Act (PCA) would shift more responsibilities to individual states, scrapping the Healthcare.gov exchange in favor of state-level marketplaces. The individual mandate would also be eliminated, but on the payer side, premium prices would be controlled through an incentive system that would reward insurers for covering higher-risk patients.
"A non‐profit, independent board would penalize insurance companies that cherry pick healthy patients while rewarding companies that seek patients with pre‐existing conditions," the PCA summary says. "This solution would ensure health insurers compete based on superior products and the lowest price."
States could also create regional arrangements to diversify the risk pool and simplify administration of local-level plans.
Patients would be allowed to automatically enroll in their plans, which may eliminate confusion over the current complex open enrollment periods, and would be eligible for tax credits that may offset the cost of receiving coverage.
"The 'Medi‐Choice' rebate, worth about $2,300 for individuals and about $5,700 for families, combined with higher wages would give individuals a wide variety of health care options," the summary explains. "The Act would require transparency from employers regarding the value of health benefits."
The proposal would also promote the use of health savings accounts (HSAs), a tax-free account that would allow patients to pay for out-of-pocket expenses or seek care that is not covered under their plans.
The PCA also would increase data transparency and quality reporting through a public-private partnership, transforming the current Agency for Healthcare Quality and Research into the Healthcare Services Commission (HSC).
The HSC's activities would be overseen by the Forum for Quality and Effectiveness in Health Care. "The forum will consist entirely of private‐sector representation, with the authority to establish and promulgate metrics to report price and quality data," the document says.
Medicare would stay on the value-based care path, using pay-for-performance incentives to improve care quality for seniors while trimming unnecessary costs.
A Better Way Forward
In June of 2016, Republicans introduced A Better Way Forward, which is also driven by tax credits instead of the current penalty system. In addition to giving states more control over regulating local industries, the plan would adjust one of the major financial pain-points for insurers: the strict limitations on increasing premium rates for patients as they age and their risk of high-cost events increases.
Under Obamacare, insurers are not allowed to charge older patients more than three times what they charge for younger, healthier consumers. The Republican plan would ease the ratio to five-to-one, but allow individual states to adjust the requirement as necessary.
Similar to Ryan's proposal, the GOP framework would retain strong coverage protections for patients. Insurers would not be allowed to drop patients that experience expensive events, and would extend continuous coverage protections to the public markets, forbidding insurers to re-assess patients for premium rates every time they wish to choose a new plan.
"Americans could spend [tax credit] money to help offset the cost of purchasing a plan of their choice, rather than the current offering of expensive…products."
Payers would also see a financial break through a $25 billion federal risk adjustment, allowing insurers to set reasonable premium prices for high-risk patients who would otherwise see themselves priced out of the market. This would potentially address some of the insurance industry's profitability losses from the current uneven risk pool.
Tax credits, not penalties, are also central to the GOP framework, and proponents of the plan advocate for an age-adjusted "portable payment" that would help patients pay for coverage.
"Americans could spend this money to help offset the cost of purchasing a plan of their choice, rather than the current offering of expensive, one-size-fits-all, Washington-approved products," the Republican white paper states.
"Given the increased flexibility in the insurance market, the new fixed credit would be large enough to purchase the typical pre-Obamacare health insurance plan – a level of support that better reflects the actual cost of coverage once states have the power to regulate plans at a more local level, rather than face costly federal mandates and regulations imposed by the President's health care law."
If consumers choose a plan that is less expensive than the funding they receive, the difference would be deposited in an HSA to be used for other health-related expenses, like dental or vision care.
Lawmakers hope this strategy would eliminate the "coverage gap," which has currently trapped 5 million low-income Americans between Medicaid eligibility and being able to afford an Obamacare policy.
The Republican proposal also encourages changes that would allow consumers to purchase coverage across state lines.
"Our plan would also make it easier for states to enter into interstate compacts for pooling, which would ease the current administration's chokehold on health care options by increasing health competition," the document says. "This would bring balance to the market by giving consumers the choice to purchase across state lines and returning authority to states to regulate health plans as they have in the past."
Trump's First 100 Days Plan
President-Elect Trump has been much slower to provide meaningful details of how he will address the Obamacare issue, but did sketch out his ambitions in a late-October speech at Gettysburg, PA.
On his campaign website, a position paper on healthcare mirrors many of the points made by Republican representatives in the past, to some degree. His goals include:
Eliminating the individual mandate for insurance coverage and the associated tax penalties for failing to obtain an insurance plan
Allowing payers to sell coverage across state lines in order to increase competition and choice for consumers
Allowing individuals to deduct the full price of their insurance coverage from their tax returns
Encouraging the expansion of tax-free HSAs that let patients share available funds with family members and pass on remaining funds to heirs after death
Increasing price transparency to make it easier for patients to choose affordable coverage and shop for the best possible care
Reducing federal oversight of Medicaid programs and allowing states to take more control over their local populations
Removing "barriers" to drug developers that offer lower-cost products, including overseas pharmaceutical companies that may bring more competitive pricing to the prescription drug industry
Enhancing and enforcing restrictions on healthcare coverage and access for illegal immigrants in an effort to slash up to $11 billion a year in spending
While light on the specifics, Trump's plan also appears to advocate for significant reductions to social assistance programs like Medicaid and CHIP, arguing that "the best social program has always been a job – and taking care of our economy will go a long way towards reducing our dependence on public health programs."
The brief outline fails to advocate for the consumer protections included in previous GOP offerings, does not include a single mention of Medicare, and does not address prevention and innovation strategies like value-based reimbursements and employer wellness programs.
It does not include assurances about retaining the pre-existing condition clause or the ability for young adults to remain on their parents' plans, and fails to give any concrete details about closing the coverage gap and ensuring that payers will offer affordable plans that will be able to meet patients' real healthcare needs.
A slightly different version of Trump's healthcare vision appeared on his presidential transition page soon after the election, hinting at more stringent restrictions on abortion and end-of-line planning, significant FDA reforms, and the expansion of high-risk pools for "individuals who have significant medical expenses and who have not maintained continuous coverage."
While the website calls the high-risk pool structure a "proven approach to ensuring coverage" for high-spending patients, the Kaiser Family Foundation asserts that the strategy has produced significant financial losses for the 35 states that have implemented high risk pools in the past.
Source: Kaiser Family Foundation
In 2011 alone, these states saw more than $1.2 billion in net losses, for an average of $5510 per enrollee, even with lifetime limits on coverage, high-deductible plans, premiums above standard rates, and pre-existing condition exclusions.
---
How the Affordable Care Act Changed the Face of Health Insurance
---
A muted reaction from healthcare stakeholders
Given the high degree of uncertainty about the future of the ACA, it is perhaps no surprise that professional societies and healthcare organizations have hedged their bets in early statements responding to the election, offering general assurances of cooperation and collaboration instead of speculation on the law itself.
"Millions of Americans have exercised one of our most fundamental rights – the right to vote and elect our leaders – and the result of Tuesday's historic election will shape national policies for years to come," said American Hospital Association President Rick Pollack. "With the election now behind us, we must pivot from politics to governance."
"Our nearly 5,000 member hospitals, health systems and other health care organizations are located in every congressional district in every state. They are a trusted source of information for legislators on the complex issues related to health care, and the ramifications that items under consideration will have on our communities – and their constituents. It's why we work in a bipartisan manner in advancing our agenda. Because better health and healthier communities are goals everyone can support."
The Association of American Medical Colleges also pledged to develop a working relationship with officials, stating that "The AAMC and its member institutions are committed to working with the Trump administration and the new Congress to address the challenges and opportunities in our health care system, and to ensure all patients receive the high quality care they need when they need it."
On LinkedIn, Kaiser Permanente Chairman and CEO Bernard J. Tyson echoed the same sentiments as he shared the letter he sent to staffers.
"Given some of the positions taken on health care during the election process, our entire industry looks forward to learning more about how the next Administration views access to health care and coverage," Tyson wrote. "At Kaiser Permanente, we stand ready to participate and engage in these critical discussions."
At the time of publication, the American Medical Association had not released a statement on the election or its potential aftermath.
[Editor's note: AMA leaders addressed the political landscape during the 2016 AMA Interim Meeting on Saturday, November 12. Read more here.]
Uncertain financial implications for hospitals raise more questions than answers
Some hospital stocks took a tumble after Election Day as traders became skittish about the future financial solvency of healthcare organizations.
In a press release, Fitch Ratings warned that "successful efforts to repeal or materially replace the ACA would be a credit negative for healthcare providers as it is [currently] contributing to higher volumes of insured patients.
"Our entire industry looks forward to learning more about how the next Administration views access to health care and coverage."
The Affordable Care Act, and the expansion of Medicaid and CHIP in particular, has provided some relief to hospitals that serve larger numbers of low-income patients.
While charity care and bad debt resulting from patients' inability to pay for services is still a feature of most hospital budgets, Medicaid expansion significantly increased the number of insured patients in states that chose to move forward with the plan and reduced uncompensated care by a whopping $6 billion.
In 2014, the Robert Wood Johnson Foundation estimated that hospitals in the 24 states that did not expand Medicaid would see $167.8 billion in lost revenue between 2013 and 2022 compared to expansion states, and be responsible for 6.7 million patients ineligible to receive coverage.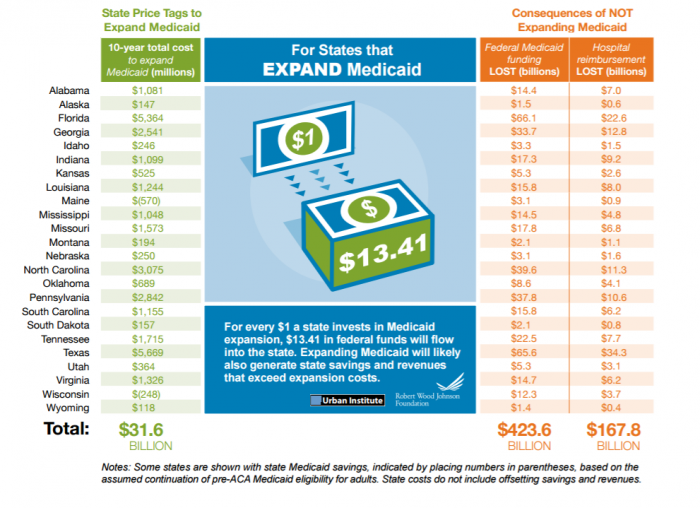 Source: Robert Wood Johnson Foundation
In contrast, hospitals in states that have expanded Medicaid are reaping financial rewards. Oregon hospitals, including rural facilities, saw operating margins increase by nearly 35 percent in 2015, and net income rose by more than 50 percent.
A 2015 Kaiser Family Foundation brief studying Ascension Health, which owns hospitals across expansion and non-expansion states, found a 32.3 percent decrease in uninsured and self-pay volume in expansion states.
"Looking at total revenue, Ascension hospitals in expansion states saw an increase (8.2 percent) in Medicaid revenue from 2013 to 2014 and a 63.2 percent decrease in revenue from self-pay," the brief's authors explain.
Source: Kaiser Family Foundation
"Hospitals in non-expansion states actually saw a 9.4 percent decline in Medicaid revenue over the same period and a slight increase (2.6 percent) in revenue from self-pay."
"Growth in Medicaid revenue from outpatient care outpaced increases in inpatient revenue in expansion states, suggesting that these hospitals experienced greater increases in demand for outpatient care from new Medicaid patients compared to inpatient care," the study concludes.
In non-expansion states, Medicaid cost shortfalls for Ascension facilities increased by 31.9 percent between 2013 and 2014.
Scaling back the Medicaid environment so significantly across the board would likely leave many hospitals in big financial trouble – and create new vulnerabilities across the care continuum for patients with complex needs, especially if high-spending patients are exposed to unaffordable premiums and large deductibles under alternative arrangements.
---
How Medicare, Medicaid, and CHIP Guide the Health Payer Industry
Understanding the Value-Based Reimbursement Model Landscape
---
Will these potential changes impact the course of the value-based transition?
Assuming Trump develops his barebones healthcare reform ideas, and stays in line with the principles laid out in the Better Way Forward and Patient Choice Act documents while doing so, providers may not see a significant reversal in the value-based care trend.
While the ACA is an extraordinarily polarizing political issue, with Democrats and Republicans diametrically opposed in their views on the success of the project, both parties recognize that reforms to Medicare and Medicaid are vital for the continued sustainability of the public insurance system.
Republicans also appear committed to continuing to develop a patient-centered healthcare ecosystem with value, performance, and consumer choice at the core.
Source: Kaiser Family Foundation
The MACRA legislation offers the most significant support for bi-partisan agreement on value-based care. The law, which eliminated the universally reviled Medicare Sustainable Growth Rate and implemented the Quality Payment Program for eligible professionals, passed by a large bi-partisan majority. The Senate voted 92-8 to approve the legislation.
The overwhelming approval of MACRA, coupled with across-the-aisle commitments to health IT development issues ranging from cybersecurity and interoperability to timeline changes easing the burdens of meaningful use, indicate that lawmakers are more united than divided on the importance of healthcare payment and technology reform.
This likely bodes well for providers who have made financial commitments to electronic health records, population health management tools, and other health IT infrastructure intended to help them succeed in a value-based environment.
None of these investments will be wasted – in fact, they may help prepare providers for a very lean operating environment after the likely removal of Medicaid expansion funds and a potentially sharp increase in self-pay patients keen to avoid unnecessary services, costly errors due to improperly informed decisions, and repetitious tests.
Patients who do retain their insurance will likely be facing increasingly steep deductibles and higher out-of-pocket costs across the board, which will make a value-based approach to patient-centered healthcare deeply important for privately insured consumers, as well.
The Quality Payment Program, which includes MIPS and the Alternative Payment Model (APM) track, incentivizes providers to engage in population health management, preventative care, and risk-sharing arrangements by providing favorable Medicare reimbursement rates to those organizations that deliver quality care.
Providers will continue to require the health IT infrastructure tools that enable quality reporting, care coordination, health information exchange, and population health management, keeping innovative developers in a strong position to offer cost-effective solutions to value-based problems.
Fitch Ratings believes the outlook for the healthcare industry "remains positive" despite the uncertain political atmosphere.
"A repeal of the ACA may slow the nascent evolution toward value-based reimbursement schemes, but Fitch believes the shift toward linking pricing to patient outcomes will continue as patients and health insurers grapple with the growing burden of healthcare costs over the longer term," the organization said.
Between now and the middle of December, providers may wish to do their best to reduce these burdens by encouraging patients without coverage to take advantage of what is likely to be one of the last Open Enrollment periods under the current ACA.
"We are all in for this Open Enrollment, and we continue to execute a robust outreach strategy with partners across the nation to let Americans know affordable coverage is available and that they should enroll by December 15th for coverage that starts January 1st," HHS Press Secretary Marjorie Connolly said in a public statement on November 10.
"This is coverage that is vital to millions of Americans, and that is being proven yet again as more people sign up, including yesterday, when more than 100,000 people signed up for coverage, the highest single-day total so far during this Open Enrollment."
The sudden surge in consumers looking to secure coverage before any ACA repeal or replace activities indicates widespread concern about future healthcare access, but also creates an opportunity for healthcare providers to help previously uninsured patients complete recommended preventative care activities, begin or resume treatment for neglected chronic conditions, and educate patients about how and when to access services in the future.
"The shift toward linking pricing to patient outcomes will continue as patients and health insurers grapple with the growing burden of healthcare costs."
Organizations should also resist the temptation to pull back on innovation, governance, and development projects related to MACRA or Stage 3 meaningful use out of fear about the financial implications of ACA changes. January 1, 2017 is still the start date for MACRA reporting, and Stage 3 meaningful use will apply to hospitals beginning in 2018.
While the healthcare landscape may look very, very different by the time healthcare organizations get truly stuck in to these programs, providers are encouraged to continue along the path to value-based care, which members of both parties agree is the right direction for the industry at large.
---
CMS Timelines for Stage 3 Meaningful Use, MACRA Implementation
How to Get Started with a Population Health Management Program
This article was originally published on November 11, 2016.
---
Sign up to receive our newsletter
and access our resources