BCBS Value-Based Care Program Grows in Michigan
More healthcare facilities are opting for value-based care programs issued through health insurance providers.
- The use of value-based payments in healthcare is a growing trend that shows no signs of slowing down. The Centers for Medicare and Medicaid Services (CMS) has focused on hospital value-based purchasing for several years, as a way to improve healthcare quality. CMS, along with several other government organizations, have created incentives for hospital networks and physicians that embrace value-base care over the traditional fee-for-service approach.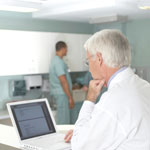 A provision of the Affordable Care Act, section 3007, mandates that by 2015 CMS has a modifier under the Medicare Physician Fee Schedule that accounts for value. CMS stated at the end of December 2014, 1,698 hospitals met performance metrics for higher Medicare payments because of value, totaling $1.4 billion in the 2015 fiscal year.
Not only is healthcare legislation and incentive programs pushing a value-based approach, so too are some insurance providers. One of them is Blue Cross Blue Shield of Michigan. According to an article from Crain's Detroit Business, since 2011, Blue Cross Blue Shield of Michigan has been signing up health systems across the state to value-based reimbursement contracts. To date, a total of 18 systems consisting of 71 hospitals have signed up.
Now, in the start of the new year, the first payments from the system are being made, which total $25 million for the first five healthcare system to sign up. Going a step further, these health systems shared $50 million in total savings, which amounts to an estimated 1 percent of total hospital expenses. Each of the hospital systems also received an average of $50,000 over a three year period, specifically to improve technology, coordination and patient care administration.
Steve Anderson, Blue Cross vice president of provider contracting and network administration, told the news source that some hospitals received a bonus payments based on provided services. He said the results "came in better than projections."
READ MORE: How to Prepare for Alternative Payment Model Implementation
"Generally, we have seen more physician and hospital collaboration than there was three or four years ago," Anderson said. "There is a whole lot of communication now between entities, aided by improved care coordination made possible by sharing clinical information through health information exchanges and electronic records."
He added that the savings were created in several different ways. These included reducing hospital readmissions, lowering the number of inappropriate radiological procedures and avoiding admissions and emergency department visits. These should also increase as more data is shared from ambulatory care and clinical information from patients who visit out-of-network providers.
Why hospitals are getting on board now
The amount being reimbursed to early adopters of the Blue Cross Blue Shield program is enough to get any healthcare system inserted in making a switch to value-based care. However, there are other factors that have caused executives to sign up for the program.
One of the most recent hospital systems to join Blue Cross Blue Shield is the Henry Ford Medical Group, which consists of five hospitals and is based in Detroit. The article features comments from Bruce Muma, MD, the chief medical officer for the Henry Ford Physician Network. He said that the funding will help coordination between hospitals and physicians. This is happening through investments in new technology and remaining open to change.
READ MORE: IL Supreme Court Maintains Non-Profit Hospital Tax Exemption
However, Muma also said that the need to reduce patient care costs and improve the quality of care is essential because of the current landscape.
"The American health care system and the Medicare trust fund, which is the largest portion of health spending, is in danger of going bankrupt," said Muma. "We can't keep on doing what we are doing. Changes have to happen, and the value-based contract is one of many forces helping the healthcare system transform itself."
An article from MiBiz profiled Holland Hospital, another one of the newer medical facilities that is under the Blue Cross value-based contract.
Paul Clippinger, executive director of Holland Hospital's Physician Hospital Organization, said that when examining healthcare spending nationwide, it is clear that change is needed.
"When you look at the entire nation as a whole, it's clear that the cost of health care is not sustainable," Clippinger told the news source. "The incentives are where they need to be. You don't want to be kind of left behind with the transformations that are taking place in the market."
READ MORE: Engaging Providers Key to Value-Based Reimbursement Adoption
Senior vice president for healthcare value at Blue Cross Blue Shield Sue Barkell said in the article that shifting focus from volume toward value has helped increase the importance of quality care and collaboration between doctors and hospitals to achieve the best possible outcomes. She added that while this change may be inevitable, it is not something that can happen overnight.
"The proof is still in the pudding because while we have seen some changes in trend lines and overall total cost of care for those systems, they still and we still have work to do," Barkell said. "Just like any project or anything that you do, you just can't discontinue your old process today and say, 'I'm starting this new process tomorrow.' It takes work."