BMC Pays $1.1M to Resolve Medical Billing Fraud Allegations
Boston Medical Center and two of its physician practice organizations agreed to pay $1.1 million to resolve allegations of medical billing fraud.
- Medical billing fraud, waste and abuse in Medicare and Medicaid appears to be an incurable disease. Although funds for these services are supposed to be for vulnerable populations with health needs, they are frequently used for other reasons. Hospitals and clinics charged with billing fraud can end up paying millions to resolve allegations.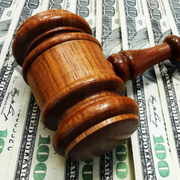 Last week, that Boston Medical Center (BMC) and two of its physician practice organizations agreed to pay $1.1 million to resolve allegations filed by the hospital's former chief compliance officer regarding improper Medicare and Medicaid billing, US Attorney's Office for the District of Massachusetts recently reported.
BMC allegedly billed Medicare for more units of the costly cancer drug Rituxan than it actually used. The hospital was also charged with sending unreasonable claims to Medicare for outpatient podiatry services. Clinical documentation did not support a need for the services. In addition, BMC also allegedly billed Medicare and Medicaid for services at its pre-surgical treatment center despite that a global fee for these types of surgeries already covered the same treatments.
"Filing false claims may result in fines of up to three times the programs' loss plus $11,000 per claim filed," the Office of Inspector General of the HHS said.
BMC was cooperative in resolving these issues. The hospital agreed to work with HHS, Office of Inspector General and the Department of Justice. After an investigation started, the hospital let the US government know that it had fixed issues of improper fund use. The hospital also conducted an audit of the Rituxan issue and was going to do an audit on the pre-surgical treatment billing issue.
HHS continues to work toward making sure that funds go to the right places. "With our law enforcement partners we will continually work to protect people relying on these government health programs," said Phillip M. Coyne of the Office of Inspector General for HHS.
The National Health Care Anti-Fraud Association estimates that each year healthcare fraud leads to tens of billions of dollars in financial losses.
In February 2016, the Centers for Medicare & Medicaid Services (CMS) published a final rule geared toward combating Medicare fraud. The rule focused on improving Medicare compliance, reporting, and self-identified overpayments. Under the rule, Medicare Part A and Medicare Part B healthcare providers are required to report and return overpayments within six years of the time they were received.
Important federal fraud and abuse laws that apply to physicians and hospitals include the False Claims Act, the Anti-Kickback Statute, the Physician Self-Referral Law, the Exclusion Authorities, and the Civil Monetary Penalties Law.