Demand for Physician Assistants Led to Increased Pay in 2015
A new study indicates that the increased demand for physician assistants led to increases in their compensation in 2015.
- Physician assistants saw a 3.4 percent increase in median provider compensation between 2014 and 2015, according to a report from the American Academy of PAs (AAPA).
Comprising feedback from approximately 16,000 respondents, the 2016 AAPA Salary Report also showed rapid growth in the physician assistant workforce with the profession increasing by more than 33 percent between 2010 and 2015. The workforce has doubled in size every decade since 1980.
"The growth of the PA profession in terms of size and compensation is just the tip of the iceberg," said Jennifer L. Dorn, AAPA CEO. "PAs are going beyond just healthcare by taking on new leadership roles in health systems around the country. They are well positioned to drive change as the US healthcare system adapts to a growing and aging population, the shift towards value-based care, and a renewed focus on patient education and prevention. In short, the state of the PA profession has never been stronger."
AAPA researchers found that the median annual salary for physician assistants was $97,000 in 2015 and the median hourly wage, $55. About 78 percent of physician assistants received a salary, but 18 percent were paid hourly while 3.7 percent were paid based on productivity.
Physician assistants working in emergency medicine, urgent care, and convenient care (as well as for medical staffing agencies and as independent contractors) were more likely to be paid hourly.
Provider compensation for some physician assistants also included bonuses, the study stated. Nearly 49 percent of full-time clinically practicing physician assistants earned a bonus payment in 2015 and half of those providers reported a bonus of $5,000 or more. Bonuses were earned based on a variety of factors, including milestone achievements, employee performance, practice performance, collections productivity, relative value unit productivity, incentives, and holidays.
Additionally, AAPA researchers noted that physician assistants employed in hospital critical access departments were the highest paid in 2015 with a $120,000 median base salary, followed by those in industrial facility and work site settings ($114,003) and hospital intensive care and critical care units ($108,000).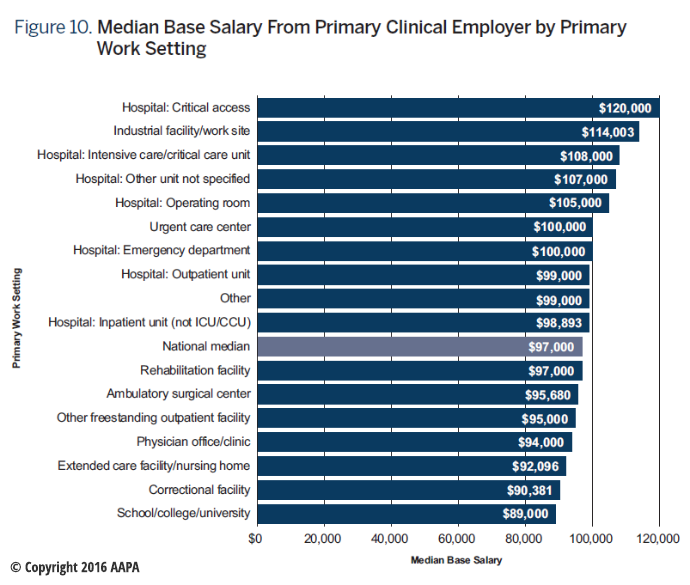 The study indicated that physician assistant compensation has consistently risen faster than both the national inflation rate. Provider compensation for physician assistants increased approximately 50 percent faster than the rate of inflation between 2000 and 2015.
As a result, physician assistants have more buying power in the healthcare employment landscape than they have had in the past, researchers stated.
Despite significant growth in workforce and compensation rates, the demand for physician assistants remains high nationwide, the report contended. The Bureau of Labor Statistics predicted physician assistant job demand to grow 30 percent between 2014 and 2024. The projected growth rate is greater than all other professions in the same time period.
"Over the past 50 years, the PA profession has grown and thrived, and PAs are poised to be a critical part of the solution to projected health workforce shortages," wrote AAPA.
AAPA intends for the provider compensation report to help organizations make key financial decisions, especially regarding the importance of physician assistant staffing.
"Data from the 2016 AAPA Salary Report will equip healthcare thought leaders with the information they need to understand the changes to our national healthcare system and the role PAs are playing in shaping its future," stated the press release.
Another healthcare employment study from Health eCareers found similar provider compensation trends in 2015. The study showed that physician assistant compensation grew by 4.3 percent and demand for physician assistants and nurse practitioners increased due to physician shortages.
With 54.8 million individuals reaching the age of 65 by 2020 in the US and payment reforms promoting more access to preventative services, healthcare organizations are seeking more providers to add to their staffing rosters, the Health eCareers study explained. But many are finding it difficult to hire and retain providers because of physician shortages.
The Association of American Medical Colleges projected to the industry to fall short by 61,700 to 94,700 physicians in 2025.
In response, more healthcare organizations opened new physician assistant and nurse practitioner positions to offset a lack of physicians, the Health eCareers study stated.
"Thanks to shortages of key professionals — including physicians and nurses — hospitals, clinics and other healthcare providers have to be even more competitive in their pursuit of new hires," the study contended. "The demand for nurse practitioners (NPs), physician assistants (PAs), certified nursing assistants (CNAs) and state-tested nursing assistants (STNAs) is equally fierce."
Dig Deeper:
• What is Healthcare Revenue Cycle Management?
• Driven by Specialists, Physician Compensation Rates Rise 3.1%