Epic EHR, Cerner Dominate Patient Accounting System Conversions
Providers organizations are converting their patient accounting systems to achieve clinical integration and healthcare revenue cycle success, a KLAS report showed.
Source: Thinkstock
- Healthcare organizations are starting to implement new patient accounting systems to achieve clinical integration, and most are going to Cerner or Epic EHR for the revenue cycle management technology, according to the Patient Accounting 2018 report from KLAS.
While Epic EHR and Cerner continue to dominate the patient accounting marketing, organizations that integrated Epic's patient accounting system into their clinical systems consistently reported achieving their financial targets.
"In contrast, revenue cycle has long been Cerner's Achilles' heel—over half of Cerner's Millennium EMR customers have not yet implemented Cerner's Millennium PA [patient accounting] solution, often due to functionality concerns and uncertainty as to whether the product can drive a healthy revenue cycle," the report stated. "While success is possible with either solution, the road maps are different."
Approximately 60 percent of customers using Epic EHR's Resolute Hospital Billing system reported meeting their organization's revenue cycle goals, and the remaining customers said their organization is trending toward hitting their financial targets.
Specifically, the majority of healthcare organizations integrating Epic's clinical and patient accounting offerings reported improvements in cash, clean claims, collection, cost to collect, and revenue after going live with the implementation.
The rest of the surveyed Epic customers reported similar financial performance improvements across the board after going live with the integration.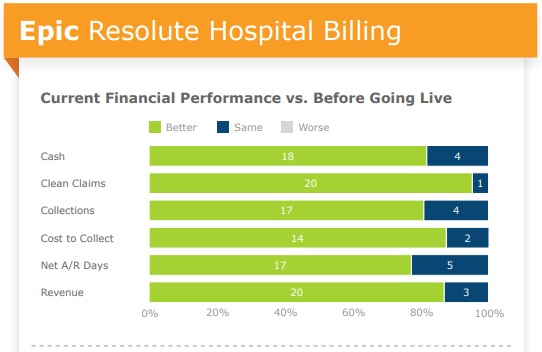 Source: KLAS
The organizations also reported an improvement in net accounts receivable (A/R) days, with the average A/R days reaching 41.9 days, the report showed.
But inefficient workflows are preventing organizations that integrated Cerner clinical and patient accounting systems from consistently achieving desired revenue cycle outcomes. Almost one-third surveyed by KLAS said their organization was meeting their financial goals, and about one-half are on their way to achieving their targets.
Notably, about 17 percent of Cerner customers said their organization was not trending toward their organization's revenue cycle goals.
The majority of healthcare organizations using Cerner's patient accounting and clinical systems reported either an improvement or similar financial performance after the go live. However, some customers did find their financial performance on cash, claim denials, collections, cost to collect, and revenue worsen after integrating the systems.
Source: KLAS
Cerner customers also reported an average A/R day of 50.3 days, down from an average of 55.5 days last year.
While most healthcare organizations with Cerner are seeing financial improvements, many are attributing that success to their internal operations, with 35 percent stating their experience and internal expertise contributed to revenue cycle success. Another 35 percent also said their internal resources and training improved financial performance.
"Respondents report having to push Cerner to provide highly capable implementation resources, and some have had to add FTEs in order to meet the demands of the Cerner solution," the report stated. "Among customers meeting their revenue cycle targets, over one-third would not buy the solution again given the choice, and optimism in the solution's future declines as organizations are live with it for longer."
Despite some bumps in the road for Cerner's patient accounting system, KLAS noted that a significant portion of the surveyed healthcare organizations remained optimistic that the large EHR vendor will get revenue cycle management right because of its market power.
Other organizations also pointed out that the timing of implementation may have impacted their financial performance.
"Many organizations that are struggling with it chose to implement Cerner's clinical system first and then implement Patient Accounting at a separate time," the report stated. "As a result, many find a rebuild necessary to get the systems to work together the way they were designed to."
The KLAS Patient Accounting 2018 report also examined the patient accounting systems offered by Allscripts, athenahealth, and MEDITECH. However, the revenue cycle management and health IT vendors did not focus on their products because of limited data.