Federal Policies to Decrease Hospital Payments by $218B by 2028
Beyond the Affordable Care Act, eleven regulatory changes and legislative acts will reduce hospital payments by over $218 billion by 2028, a consulting firm projected.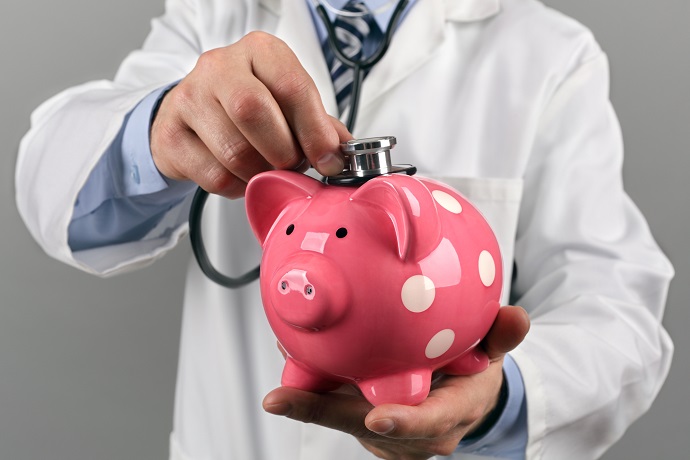 Source: Thinkstock
- Several federal policies since 2010 will reduce hospital payments by a total of $218.2 billion by 2028, a new report from the health economics consulting firm Dobson | DaVanzo and Associates revealed.
The report commissioned by the Federation of American Hospitals (FAH) and the American Hospital Association (AHA) determined the cumulative federal hospital payment reduction stemming from policies enacted beyond the Affordable Care Act.
The analysis uncovered that eleven regulatory changes by CMS and other legislative acts would significantly decrease hospital payments made by the federal government.
"$218 billion is not just a number; the funding reductions it reflects have real world consequences for patients. Losses of this significance simply cannot be sustained and will affect the ability of hospitals to meet the expectations of the patients and communities we serve. It is critical that going forward policymakers recognize this fact and work with hospitals so we can continue to deliver the 24/7 care Americans deserve," stated Chip Kahn, FAH President and CEO.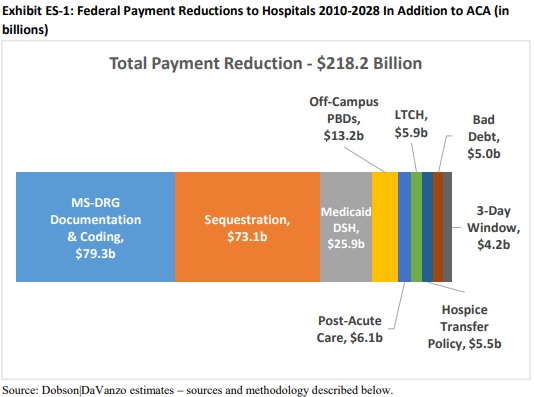 Source: Dobson | DaVanzo and Associates
Implementation of Medicare Severity Diagnosis-Related Groups (MS-DRGs) and sequestration will drive hospital payment reductions, Dobson | DaVanzo and Associates reported.
MS-DRG implement will have the most significant impact on hospital payments, with a total reduction of $79.3 billion between 2012 and 2028.
CMS enacted MS-DRGs in the Inpatient Prospective Payment System (IPPS) in 2008 to refine payments based on severity of illness. The implementation of the new grouping system resulted in a 5.4 percent increase in the base payment rate due to clinical documentation and coding improvements.
In turn, CMS reduced the base payment rate to prevent Medicare overpayments.
But a hospital industry study countered CMS' claims, reporting clinical documentation and coding improvements only increased the base payment rate by 3.5 percent. Therefore, the 1.9 percent difference was an inappropriate and permanent hospital payment reduction, totaling a reduction of $41.3 billion between 2013 and 2028.
On top of MS-DRG implementation reductions, hospital payments are also slated to fall because of Medicare overpayment recoupments. The Transitional Medical Assistance, Abstinence Education, QI Programs Extension Act of 2007, and American Taxpayer Relief Act of 2012 (ATRA) mandated that CMS recoup any overpayments from MS-DRG implementation.
CMS adjustments to recoup all overpayments resulted in a permanent 0.7 percentage point reduction in hospital IPPS operating payment rates, which will likely lower payments by $8.8 billion through 2028.
The 21st Century Cures Act also modified hospital payment rates because of overpayment recoupments. The Congressional Budget Office estimates that the modification would generate $760 million in savings to Medicare through 2026.
Dobson | DaVanzo and Associates extended the period to 2028 and projected the modification to achieve savings totaling $960 million.
Additionally, sequestration will be responsible for another $73.1 billion in hospital payment reductions, the consulting firm projected.
The Medicare reimbursement reductions started in 2011 under the Budget Control Act of 2011, which required an across-the-board reduction of $1.2 trillion in federal spending over a ten-year period. Under the act, CMS applied a two percent reduction in Medicare reimbursement for fee-for-service discharges on or after April 1, 2013.
Source: Dobson | DaVanzo and Associates
Policymakers have extended the sequestration several times under the Bipartisan Budget Act of 2013, Military Retiree COLA Restoration Bill (S. 25) of 2014, Bipartisan Budget Act of 2015, and Bipartisan Budget Act of 2018. The sequestration will now end in 2027.
The Bipartisan Budget Act of 2018 also mandated that CMS reduce Medicare reimbursement by four percent for the first half of the 2027 fiscal year.
Other factors contributing to the billions in hospital payment reductions through 2028 include:
Drop in federal Medicaid Disproportionate Share Hospital allotments, representing a $25.9 billion reduction in hospital payments
Site-neutral payments for off-campus provider-based hospital outpatient departments, accounting for a $13.2 billion decrease in hospital payments
Reduction in post-acute care provider payment updates under MACRA, resulting in a $6.1 billion hospital payment reduction
Site-neutral payments for certain long-term care hospital patients, totaling $5.9 billion in hospital payment reductions
Early transfer to hospice policy for Medicare patients, accounting for a $5.5 billion loss in hospital payments
Decrease in Medicare reimbursement for hospital bad debt, totaling $5 billion in hospital payment reductions
Clarification of the 3-day payment window, which prevents unbundling of related services within three days of an inpatient admission and submission of adjustment claims, resulting in a $4.2 billion drop in hospital payments
The $218.2 billion in cumulative hospital payment reduction is on top of reimbursement cuts already enacted under the Affordable Care Act, the consulting firm noted.
The billions of dollars in cuts spells trouble for hospitals, explained AHA President and CEO Rick Pollack.
"Continued cuts of this magnitude represent a troubling trend for hospitals and health systems as many struggle with declining reimbursements for services provided in and out of the hospital," he explained.
"As noted in other recent reports, Medicare margins have hit a ten-year low and almost a third of hospitals now have negative aggregate margins across all payer types. Additional reductions will create challenging and potentially unsustainable financial circumstances that could adversely impact patients' access to care and the ability of hospitals to provide services."