Healthcare Business Office Experience Impacts Patient Collections
Negative healthcare business office interactions result in consumers delaying patient financial responsibility payment in full, a new survey shows.
Source: Thinkstock
- Consumers are less likely to pay their patient financial responsibility in full if they experience a negative healthcare business office interaction, a new survey shows.
The survey of 500 recent healthcare consumers conducted by Connance found that fully satisfied and satisfied individuals are the most likely to pay financial responsibility in full. And the chances of full patient payment dwindle as consumers rate their healthcare business office interactions as not distinctive, dissatisfying, and very dissatisfying.
Notably, consumers experiencing very dissatisfying healthcare business office interactions are the most likely to never pay their patient financial responsibility, while dissatisfied consumers are the most likely to pay in stages.
Source: Connance
"This data suggests the business office might be an interesting and new 'moment of truth' for providers," the report stated. "If negative interactions can be moved to positive, there is likely financial upside in short-term cash and longer-term loyalty."
The survey showed that providers can improve their healthcare business office interactions by proactively engaging with patients.
READ MORE: Key Ways to Boost Collection of Patient Financial Responsibility
Only 35 percent of consumers who owed payments to providers said their healthcare organization's business office called them prior to treatment to discuss patient financial responsibility by providing a cost estimate.
As a result, two out of three patients visited a doctor without any financial expectation yet had a patient financial responsibility obligation.
Surprising patients with unexpected healthcare costs may not only affect the consumer's business office interaction, but also the healthcare organization's operating costs. Sixty-three percent of consumers with payments that exceed their expectations have or will call the healthcare business office.
In comparison, 70 percent of consumers with healthcare balances that met expectations will not call the business office.
Surprise patient financial responsibility creates additional work for healthcare business offices and drives up service center operation costs, the survey report explained.
READ MORE: 3 Patient Collections Best Practices to Boost the Bottom Line
Providers may be able to control service center costs and improve productivity by discussing patient financial responsibility with the right patients. The survey found that consumers with significant patient financial responsibility want to speak with healthcare business office staff.
Nearly three-quarters of consumers with $500 to $1,000 in payment responsibility would have liked to engage with the business office prior to treatment. Around 60 percent of respondents with over $1,000 in payment responsibility would have also wanted to talk with the business office.
"By knowing what is owed upfront, patients are telling us it will improve their overall experience," the report stated.
Offering consumers convenient payment options will also help providers improve the healthcare business office interaction, the survey indicated.
Younger respondents to the survey said they prefer to pay their bills online through a secure portal or website. About 30 percent of consumers 40 to 64 years old and approximately 30 percent of consumers 65 years or older also preferred online bill pay.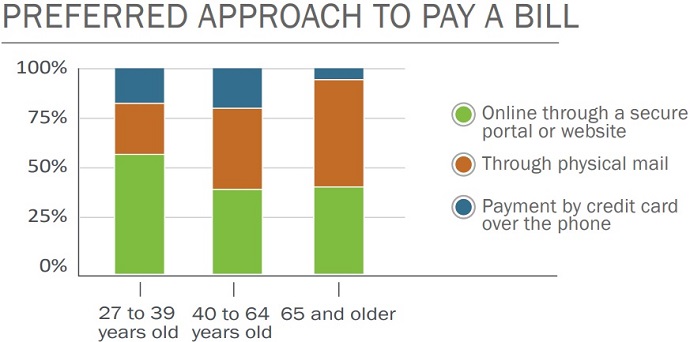 Source: Connance
READ MORE: Paperless Medical Billing Key to Boosting Patient Collections
Payment by credit card over the phone was the least preferred option among the three age groups.
Implementing online patient collection capabilities may help to obtain patient financial responsibility from younger generations. But providers should not abandon paper bills, the survey showed.
Paying medical bills through physical mail was the preferred method for consumers 65 years or older, and the second preferred method for the other two payment groups.
Providers will be seeing more patients who are 65 years or older. The population is slated to rise 50 percent by 2020, while the number of individuals under 18 years old will only increase by three percent, the Association of American Medical Colleges (AAMC) reported.
Ensuring patient financial responsibility is collected from the older population will be key to boosting a provider's bottom line.
Consumers of all ages also identified more payment options, simpler medical bills, and access to self-service portals as the top process changes to improve healthcare business office satisfaction.
Source: Connance
More mailings and reminder messages were the least appealing process changes for healthcare business offices, the survey added.
Meeting consumer demands for healthcare business office interactions is crucial to improving the healthcare revenue cycle. Not only will a consumer-focused healthcare business office boost patient collection, but it could also help patient retention.
The healthcare business office interaction influences whether a patient recommends the provider to others, the survey found. Consumers between 27 and 39 years old particularly value the healthcare business office interaction, with approximately 40 percent saying the interaction impacts their willingness to recommend a hospital to a friend.
Older generations are less likely to place high value on the business office experience.
But the valuation of the healthcare business office interaction is likely to increase as consumers continue to enroll in high-deductible health plans and out-of-pocket costs increase.