Healthcare Dollars Moving to Alternative Payment Models, LAN Finds
The percentage of healthcare payments linked to an alternative payment model increased five percentage points from 2015 to 2017.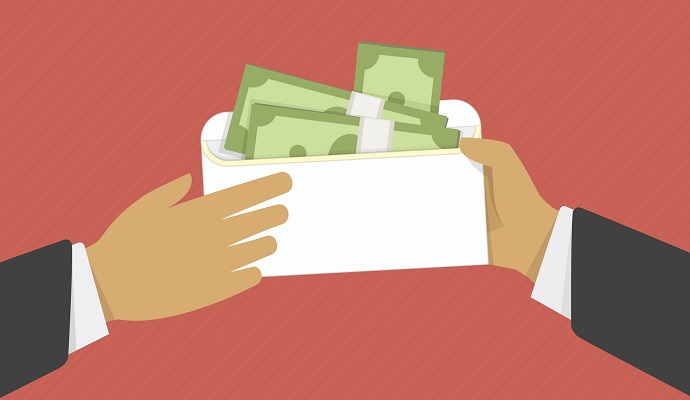 Source: Thinkstock
- Approximately 34 percent of all healthcare payments made in 2017 were tied to an alternative payment model (APM) with shared savings, shared risk, bundled payments, or population-based payments, according to a new report from the Health Care Payment Learning & Action Network (LAN).
The shift away from fee-for-service is continuing at a steady pace, payment data from America's Health Insurance Plans (AHIP), the Blue Cross Blue Shield Association (BCBSA), and CMS revealed.
The percentage of healthcare payments tied to an APM increased five percentage points compared to the prior two years, bringing total APM spending to about $385.5 billion nationally.
At the same time, the number of purely fee-for-service payments decreased by 34 percent, researchers reported.
"The report's findings reinforce our understanding that there is sustained, positive momentum in the effort to shift healthcare payments from traditional fee-for-service into value-based payments," Mark McClellan, Co-Chair of the LAN Guiding Committee, stated in a press release.
READ MORE: Exploring Two-Sided Financial Risk in Alternative Payment Models
"While we celebrate the increase in overall APM adoption, we also know further progress on payment reform will be important to ensure healthcare dollars flow through models that have more risk," added McClellan, who also serves as the Director of the Robert J. Margolis Center for Health Policy.
Only 12.5 percent of healthcare payments stemmed from downside financial risk models in 2017, showed the data from 70 health plans, three managed fee-for-service Medicaid states, and Medicare fee-for-service, which covered 82 percent of the national market.
Payers and providers are still hesitant to take on more risk. Upside risk-only APMs were the most dominant APM type, with 21.1 percent of healthcare payments tied to the models.
Source: Health Care Payment Learning & Action Network (LAN)
But LAN researchers predicted payers and providers to take on more downside financial risk in the near-future.
The expectation is that payments in upside-only APMs (or 3A models according to LAN) will convert to shared savings with downside risk models (or 3B models according to LAN), researchers stated.
READ MORE: Understanding the Value-Based Reimbursement Model Landscape
LAN categorizes healthcare payments based on four categories:
Category 1: fee-for-service payments with no link to quality and/or value
Category 2: fee-for-service payments linked to quality and/or value (i.e. foundational payments for infrastructure and operations, pay-for-reporting, and pay-for-performance)
Category 3: APMs built on fee-for-service
Category 4: population-based payments
Categories 3 and 4 also have subcategories. In Category 3, there is 3A, which are shared savings and upside risk-only APMs, and 3B, which are shared savings with downside risk APMs.
Category 4 includes condition-specific population-based payments (4A), comprehensive population-based payments (4B), and integrated finance and delivery system (4C).
Researchers expect healthcare payments to gradually move along the spectrum, with providers steadily taking on more risk as they move from Category 1 to Category 4.
The transition to downside financial risk APMs may also occur faster with the proposed changes to Medicare's largest accountable care organization (ACO) program, researchers added. CMS recently proposed to reduce the amount of time ACOs in the Medicare Shared Savings Program (MSSP) have to take on downside financial risk arrangements (or 3B payments).
READ MORE: How to Prepare for Alternative Payment Model Implementation
The prevalence of downside financial risk APMs is also more likely to come from Medicare, the report also showed.
New to the annual LAN report is the break down of APM activity by business lines. Researchers examined the healthcare payments made through commercial, Medicaid, Medicare Advantage, and Medicare fee-for-service.
The data revealed that Medicare Advantage made the most Category 3 and 4 payments in 2017, with 49.5 percent of payments.
Medicare had the second most alternative payment model payments, with 38.3 percent in 2017, followed by the commercial market with 28.3 percent and Medicaid with 24 percent.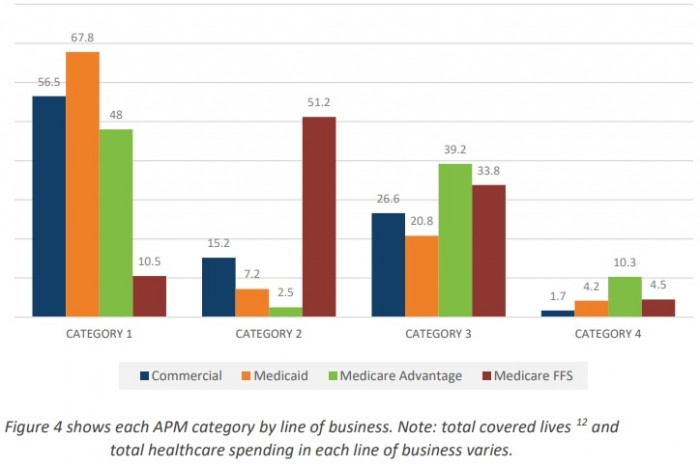 Source: Health Care Payment Learning & Action Network (LAN)
Medicare Advantage has more dollars in APMs because of its financing structure, researchers hypothesized. The plans receive a monthly, capitated rate based on each enrollee's age, location, and health status.
Researchers added that Medicaid may have the greatest proportion of purely fee-for-service payments (68 percent) because of legislative and regulatory issues. Medicaid may also have the least APM activity because of expiring demonstration projects, rapid increases in Medicaid-covered lives, uncertainty at the federal level, and high turnover rates and limited staffing resources within state Medicaid agencies, researchers added.
APM activity across commercial and public payers may significantly vary, but payers agree that more healthcare payments will be linked to an alternative payment model in the future.
Ninety-percent of payers told LAN researchers that APM activity will increase. Notably, no payers indicated that their involvement in APMs will decrease.
APM activity will likely increase for 3B APMs, the report added. Almost one-half of payers (48 percent) said APMs with fee-for-service-based shared risk, procedure-based bundled payments, and population based payments that are not condition specific will be the most impacted by the increase in APM activity.
"Subcategory 3B is the only APM subcategory outside of Category 4 that places providers at risk for their performance. Its selection as the APM to be most impacted by future APM adoption reflects a likely shift to two-sided risk arrangements," the report stated.
Payers, however, will have to overcome challenges related to the ability to operationalize and willingness to take on downside financial risk before they can truly move the needle on APM activity.