Healthcare Financial Challenges High for Hospital Executives
An annual report from ACHE points to healthcare financial challenges as the clear top concern for hospital leadership.
- It is not surprising to learn that healthcare organizations fret over financing and reform. While improving the quality of care for patients is certainly a main priority, without a steady flow of revenue, any healthcare provider will be unable to keep the doors open.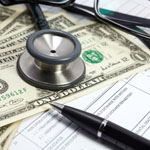 The American College of Healthcare Executives (ACHE) released the results of its annual survey of top issues that concern hospitals. For the report, the ACHE received 338 responses from community hospital CEOs out of 1,118. They were asked to rank 10 specific issues affecting their organization in order of importance to discover the top issues.
According to the results, financial challenges are at the top of the list for the third straight year, averaging a ranking of 2.5. This is roughly the same ranking as the previous two years (2.4 and 2.5 respectfully). This is far and away the leader.
In second is healthcare reform implementation with an average ranking of 4.6. This issue was in the same place last year (4.3) but in third in 2012 (4.7). In the current study, government mandates are tied with reform with the same average ranking and was in a similar place (4.9 average ranking, tied for third) in 2013. However, it was in fourth in 2012. Patient safety and quality, which is fourth on the list (4.7 ranking) has dropped from being second in 2012.
The other six issues, in order of their ranking from the current report include: care for the uninsured/underinsured; patient satisfaction; physician-hospital relations; population health management; technology; and personnel shortages.
"The survey results show that these are challenging times for CEOs and leadership teams, and we are all expected to do more with less," says Deborah J. Bowen, FACHE, CAE, president and CEO of ACHE. "Taking care of patients and improving patient safety and quality in their organizations is job No. 1, but CEOs acknowledge they must do so in a climate of complex payment reform, dwindling reimbursement and government mandates."
With each issue, there was also a list of specific challenges that hospitals may face, they were asked to identify as many as apply to them. The list is extensive and includes:
•Medicaid reimbursement (including adequacy and timeliness of payment) – 69 percent

•Bad debt – 67 percent

•Medicare reimbursement – 57 percent

•Government cutting funds (except Medicaid and Medicare reimbursement) – 55 percent

•Growing cost of staff, supplies, etc – 55 percent

•Revenue management cycle – 39 percent

•Managed care payments – 37 percent

•Other commercial insurance reimbursement – 37 percent

•Inadequate funding for capital improvements – 32 percent
Healthcare reform implementation has several challenges that are related to cost including the top three: reduce operating costs (78 percent), shift to value-based purchasing (66 percent) and alignment of provider and payer incentives.