Healthcare Leaders Express Confidence for 2015
A new study found that 68 percent of senior healthcare executives are predicting a stronger year ahead.
- Every healthcare provider keeps a close eye on Washington. With the industry evolving quickly thanks to the latest technology and changing patient demands, healthcare reform and regulations can change just as rapidly. Each tweak to a law or new rule can have a major impact on the overall industry. However, it might be surprising to learn that despite this, healthcare executives are optimistic.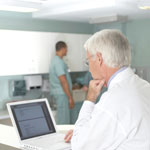 GE Capital's Healthcare Financial Services released the results of a survey it conducted of healthcare industry leaders in the U.S. This includes 521 senior executives from healthcare companies across the industry.
The biggest takeaway from the study is that while respondents know the challenges ahead of them, they are less concerned about healthcare reform and regulatory oversight than the year before.
According to the results, 43 percent of those surveyed put the Affordable Care Act (ACA) as the greatest challenge the healthcare industry will deal with in 2015. Rounding out the top three are regulatory oversight (30 percent) and the U.S. economy (17 percent). In last year's study, ACA also topped the list, cited by 57 percent of respondents, with regulatory oversight (20 percent) and the U.S. economy (13 percent) also getting consideration.
There is also a high level of confidence coming from industry leaders. Sixty-eight percent of respondents said they expect their company to have a better year than it did in 2014. An additional 29 percent said they expected the same level of business. That means only three percent are predicting a weaker year.
"We agree with the optimism shown by our customers and other healthcare industry leaders about 2015. Though less than last year, implementation of the ACA is still top of mind across the industry," Al Aria, senior managing director of GE Capital, Healthcare Financial Services' corporate finance team, said in the release.
The study touched on several additional areas. These include:
Growth – When it comes to expanding operations in 2015 there are three main ways it will be done. The host popular option is to revitalize or upgrade an existing part of the business (38 percent). Other options include a merger or acquisition (37 percent) or launching a new arm of the business (25 percent).
Financing – Only 6 percent of respondents are expecting their capital needs to be lower in 2015 than they were in 2014. Sixty-seven percent expect them to be the same and 27 percent expect them to be significantly higher.
ACA Alterations – One of the few areas where expectations are divided is changes to the ACA. While they all acknowledge change is happening, 43 percent expect them to the moderate while 41 percent expect them to be insignificant.