Healthcare Mergers, Increased Access to Boost Medical Costs 6%
Healthcare mergers, physician consolidation, and non-traditional care settings are driving an unsustainable increase in medical costs, PwC experts reported.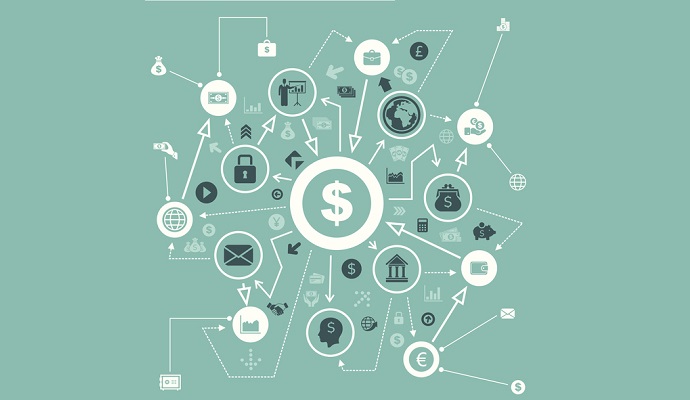 Source: Thinkstock
- PwC's Health Research Institute (HRI) predicts medical costs for employers to grow 6 percent in 2019 as healthcare mergers and more convenient care access options drive up healthcare costs and utilization.
The medical cost trend is consistent with the 5.5 to 7 percent range of the previous five years. But these rates spell trouble for the healthcare industry, explained Barbara Gniewek, a Health Services Principal at PwC.
"While some people are relieved that it's not the high rates of 15 or 20 years ago, costs going up at that rate still unsustainable," she recently told RevCycleIntelligence.com. "We still haven't figured out how to control healthcare costs and we still don't have the type of healthcare that we need."
Source: PwC's Health Research Institute
Healthcare mergers and consolidation will not help the healthcare industry drive down medical costs to a sustainable rate, revealed the HRI analysis of the employer-based market, which covers approximately one-half of non-elderly Americans.
READ MORE: Hospital Mergers Take Two or More Years to Produce Cost Savings
2017 saw the greatest number of transactions since 2000, with 115 health system and hospital merger deals announced, a recent Kaufman Hall analysis revealed. Of the deals, ten were notably mega-merger deals involving sellers with net annual revenues of at least $1 billion.
While these healthcare merger deals ultimately intend to achieve economies of scale, improve care quality, and reduce costs, they often end up increasing prices in the short-term.
"The consolidations on the provider side have been difficult. Consolidation has the promise of better efficiency and a reduction in cost because you can get rid of the redundancies, especially around the non-care delivery side," explained Gniewek.
"But we haven't really seen that. Instead, consolidations have resulted in a short-term increase in fee schedules and prices because of negotiation power."
Healthcare mergers are also leading to physician consolidation, which is pushing up medical costs, the report uncovered.
READ MORE: Managing Healthcare Costs, Data Analytics Top C-Suite Priorities
Hospitals acquired 5,000 physician practices from July 2015 to July 2016 alone, a recent Physicians Advocacy Institute (PAI) and Avalere Health analysis found.
Physicians are also choosing to work in hospitals rather than independent practices, the analysis showed. The number of physicians employed by a hospital rose 14,000 in the same period.
Physician consolidation and hospital employment increase medical costs, with one study finding an eight percent growth in physician fees from 1988 to 2008.
Medical costs will rise in 2019 as physician consolidation continues because acquired organizations may adopt the price schedule of the larger organizations, resulting in higher prices.
Decreased productivity after acquisition or hospital employment could also exacerbate the medical cost issue, HRI explained. A cited Merritt Hawkins analysis found that employed physicians see an average of 20 patients per day, while independent doctors see an average of 23 patients.
READ MORE: Top 10 ICU Diagnoses Driving Up Healthcare Costs, Care Variations
"Physicians will continue to be employed, and so far, that has driven up costs," Gniewek said. "You go to your same doctor at the same venue a year later and it costs you more just because the doctor is now employed by a system. Younger doctors are coming out of school and they like the idea of being employed by a hospital. We predict more physicians will go that route."
With healthcare and physician consolidation trending up in 2018, HRI estimates that 93 percent of most metropolitan markets will be deemed highly concentrated by 2019 because of healthcare mergers.
"In the long-term, the magnitude of the systemization and consolidation is tough because if you're in a concentrated area where 93 percent of the providers are consolidated, it makes pricing difficult, especially if you're in a concentrated area where there's one system that owns the majority of the area," she said.
"In some cities, I've seen these health systems come after insurance companies and demand price increases because they're the only system in town. Insurance companies really can't not have them in their network."
But Gniewek remains optimistic that these healthcare mergers could result in increased cost efficiency and enhanced care management in the future.
"We need to start getting to the point where we pull out the excess redundancies in the system and be able to monetize that in terms of savings," she remarked. "We just haven't seen that happen yet. It's been more, 'I own the market, so I can drive up the prices.' As the government and employers demand better price control and want to do some direct contracting or high-performing networks, then eventually consolidations will be more efficient."
Additionally, HRI reported that convenient, accessible care options will also drive the increase in medical costs in 2019. Researchers predict consumers will seek more care as retail clinics, telehealth, and other convenient access options become more available.
A PwC survey showed that this is already happening, with 60 percent of those with employer-based insurance saying they received care at an urgent care center, 25 percent at a retail health clinic, and 11 percent by a video visit.
Consumers are also more willing to receive care in non-traditional settings, researchers reported.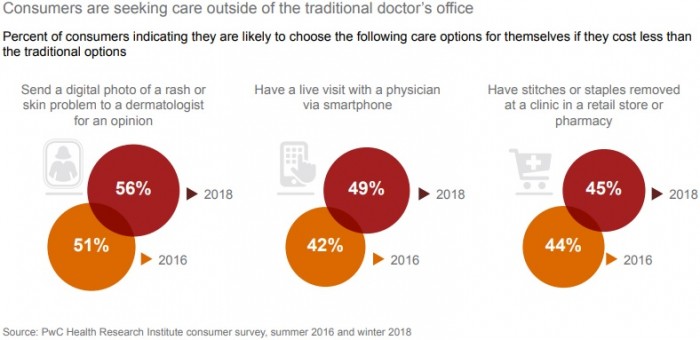 Source: PwC's Health Research Institute
This boost in healthcare utilization will temporarily increase costs, Gniewek explained.
"The shocker on the inflator side is really the care anywhere factor and the idea that we wanted to make healthcare easier. But whenever you make something easier and accessible, it does drive up utilization," she said.
"We expected that that care would be at a cheaper price point, as well as work to identify future needs. We have just seen the utilization piece of that go up, and we haven't had the time to see if we are going to realize the expectation on the price point, as well as the ability to control costs on a go-forward basis because you're getting in front of management."
While medical costs continue to increase at an unsustainable rate, the analysis identified several strategies that will deflate costs going forward. Care management, care advocacy, and high-performing networks should keep costs at bay.
"Seventy-five percent of employers offer at least one high-deductible plan even though there are other options," Gniewek said. "But these strategies will really help employees get better at using them because we know they are not happy with them. It's hard to be a consumer of healthcare. Healthcare is very complex. So, having an advocate who helps to navigate the system is a good thing and should reduce costs."
"The high-performing networks are making sure people are using the high-quality, high-performing doctors," she added. "It's getting people the care they need, when and where they need it. That works nicely with the advocacy to reduce costs."