Healthcare Price Growth Hits Lowest Rate in About Two Years
A study showed that healthcare prices rose by 1.2 percent compared to last year despite expectations that the rate would stay above 2 percent.
Source: Thinkstock
- Healthcare price growth in August 2017 increased by just 1.2 percent compared to the previous year, reaching the lowest growth rate in nearly two years and only three-tenths above the lowest growth rate ever recorded by Altarum Institute's Center for Sustainable Health Spending (CSHS).
The recent CSHS brief showed that the 12-month moving healthcare price growth average of 1.8 percent dropped from 1.9 percent, which had been the average rate for six months.
Researchers projected the growth rate to stabilize at around two percent after the healthcare price growth rate fell from 3.4 percent in October 2009, remained around two percent growth for two years, and then drastically fell to 0.9 percent in December 2015.
Since December 2015, healthcare price growth has steadily increased. But recent evidence revealed that the rate has slowed despite predictions that it would stabilize at about two percent again.
Historically low Medical Consumer Price Index growth contributed to the slow price growth rate, the brief explained. The Medical Consumer Price Index decreased to 1.8 percent growth, the lowest rate recorded by CSHS.
A low Medical Consumer Price Index growth rate indicated a "possible signal of relief for healthcare consumers with substantial out-of-pocket expenditures."
Researchers also found that the slowing hospital price growth rate attributed to a modest increase in overall healthcare prices.
Hospital price growth decreased to 1.5 percent in July 2017 from 1.3 percent.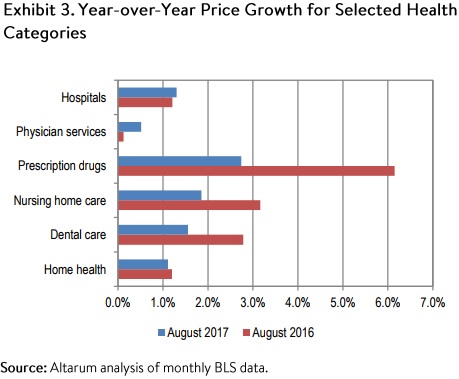 Source: Altarum Institute's Center for Sustainable Health Spending
In contrast, physician price growth only fell one-tenth to hit 0.5 percent in the same period.
With hospital spending representing a significant portion of the industry, the slow hospital growth rate influenced overall healthcare price growth more than decreases in prices for physician services.
Additionally, the healthcare price growth rate also dipped below economy-wide price growth as measured by the gross domestic product deflator (GDPD), which researchers noted is a "very rare occurrence." The economy experienced a 1.7 percent year-over-year increase by August 2017.
Researchers also reported that healthcare prices have risen faster than prices in the economy. Since December 2007, healthcare prices jumped 19.7 percent, whereas economy-wide GDPD only increased 15.7 percent.
"Low economy-wide inflation and structural changes in the health sector seem to be putting downward pressure on healthcare prices, and Affordable Care Act uncertainty also appears to be having a continuing effect," the brief stated.
While healthcare prices saw historically slow growth, healthcare spending increases remained modest, researchers stated. Healthcare spending was just 4.3 percent higher than the growth rate from August 2016, reaching $3.51 trillion by August 2017.
Hospital spending represented almost one-third of total healthcare spending. Hospitals spent approximately $1.11 trillion.
Source: Altarum Institute's Center for Sustainable Health Spending
Physician and clinical services accounted for another 20 percent of overall healthcare spending, with total expenditures hitting $706 billion.
While just accounting for 3 percent of total healthcare spending, home health care increased the fastest, researchers added. Home health spending grew 6.5 percent by August 2017 after experiencing the lowest spending growth rate in the year ending in August 2016.
Source: Altarum Institute's Center for Sustainable Health Spending
Conversely, hospital spending only increased by 2.3 percent despite representing the largest portion of spending.
The hospital spending growth rate reached the lowest level since September 2011 when the rate was 1.8 percent year-over-year.
"[T]hese comparatively low growth rates likely reflect the impact of expanded coverage, and its subsequent leveling off, on health services utilization, especially hospital utilization," stated the brief.