HHS, DoJ Announce Largest Healthcare Fraud Takedown
HHS and DoJ have identified 301 individuals involved in recent healthcare fraud schemes totaling $900 million in false medical billing.
- The Department of Health and Human Services (HHS) has recently partnered with the Department of Justice (DoJ) to charge 301 individuals, including 61 physicians and licensed medical professionals, with reportedly participating in healthcare fraud schemes, amounting to $900 million in false medical billing.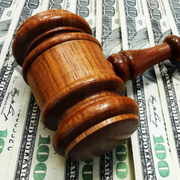 Twenty-three state Medicaid Fraud Control units helped coordinate the largest healthcare fraud takedown in history based on the number of individuals arrested and the total amount lost, the federal agencies announced midweek.
The Centers of Medicare and Medicaid Services (CMS) has also suspended payments to a number of healthcare providers using its authority under the Affordable Care Act.
"Millions of seniors depend on Medicare for essential health coverage, and our action shows that this administration remains committed to cracking down on individuals who try to defraud the program," said Sylvia Burwell, HHS Secretary. "We are continuing to put new tools and additional resources to work, including $350 million from the Affordable Care Act, for health care fraud prevention and enforcement efforts.
"Thanks to the hard work of the Medicare Fraud Strike Force, we are making progress in addressing and deterring fraud and delivering results to help ensure Medicare remains strong for years to come."
READ MORE: GA Dentist Sentenced to Prison for $1M Medicaid Fraud Scheme
The agencies have charged the defendants with numerous healthcare fraud crimes, including conspiracy to commit healthcare fraud, infringements of anti-kickback regulations, money laundering, and aggravated identity theft.
Many of the alleged fraud schemes involved medical treatments and services, in particularly home healthcare, psychotherapy, physical and occupational therapy, durable medical equipment, and prescription drugs. The Department of Justice reported that more than 60 individuals were arrested for healthcare fraud crimes related to the Medicare Part D, a prescription drug benefit program.
In some cases, the defendants were allegedly involved in schemes to submit Medicare and Medicaid claims for treatments that were medically unnecessary or never performed. Many of the healthcare providers arrested in the takedown are accused of submitting false medical bills.
However, healthcare providers were not the only group caught in the healthcare fraud takedown. Other defendants included patient recruiters and Medicare beneficiaries, who allegedly received cash kickbacks for providing beneficiary information to providers for fraudulent billing schemes.
In the statement, Attorney General Loretta Lynch said,
READ MORE: OK Physician Pays $580K to Settle Medicare Fraud Allegations

As this takedown should make clear, healthcare fraud is not an abstract violation or benign offense – It is a serious crime. The wrongdoers that we pursue in these operations seek to use public funds for private enrichment. They target real people – many of them in need of significant medical care. They promise effective cures and therapies, but they provide none. Above all, they abuse basic bonds of trust – between doctor and patient; between pharmacist and doctor; between taxpayer and government – and pervert them to their own ends. The Department of Justice is determined to continue working to ensure that the American people know that their health care system works for them – and them alone.
Under the Affordable Care Act, federal agencies have received more funding and resources for preventing healthcare fraud and tracking down offenders. The law provided agencies with $350 million for healthcare fraud prevent and enforcement purposes, including improving provider and supplier screenings and enrollment requirements as well as promoting more data sharing across government departments.
The Affordable Care Act has also strengthened sentencing procedures for criminal activities, such as determining the loss by the amount billed to Medicare and increasing sentencing guidelines. Defendants now face longer prison times under the law, which aims to deter individuals from committing healthcare fraud.
A major force behind the joint healthcare fraud initiative was the Medicare Fraud Strike Force, which is part of the Healthcare Fraud Prevention and Enforcement Action Team. The group was established in 2009 by the Department of Justice and HHS to prevent healthcare fraud and enforce anti-fraud laws.
"The Medicare Fraud Strike Force is a model of 21st-Century data-driven law enforcement, and it has had a remarkable impact on health care fraud across the country," said Assistant Attorney General Leslie Caldwell. "As the cases announced today demonstrate, the Strike Force's strategic approach keeps us a step ahead of emerging fraud trends, including drug diversion, and fraud involving compounded medications and hospice care."
READ MORE: Turnkey Approach to Fighting Healthcare Fraud, Waste, Abuse
As part of the most recent operation, the Strike Force was able to identify over 200 individuals who were involved in healthcare fraud schemes.
For example, the Strike Force was responsible for discovering $220 million in false billings for home health services, mental health services, and pharmaceuticals in southern Florida. About 100 defendants were charged with fraudulent billing that led to $24 million in Medicare payments to six companies.
HHS and the Department of Justice also collaborated with various other federal agencies, such as the Federal Bureau of Investigation and the Office of the Inspector General, to complete the operation.
"While it is impossible to accurately pinpoint the true cost of fraud in federal healthcare programs, fraud is a significant threat to the programs' stability and endangers access to health care services for millions of Americans," said Inspector General Daniel Levinson.
Dig Deeper:
• Turnkey Approach to Fighting Healthcare Fraud, Waste, Abuse
• Using Big Data in the Hunt for Healthcare Fraud, Waste, and Abuse