Hospital Costs Fall Despite Overall Healthcare Spending Growth
Hospital and healthcare systems faced the slowest hospital costs growth rate since 1998 and the lowest Medicare spending growth in 17 years, the AHA revealed.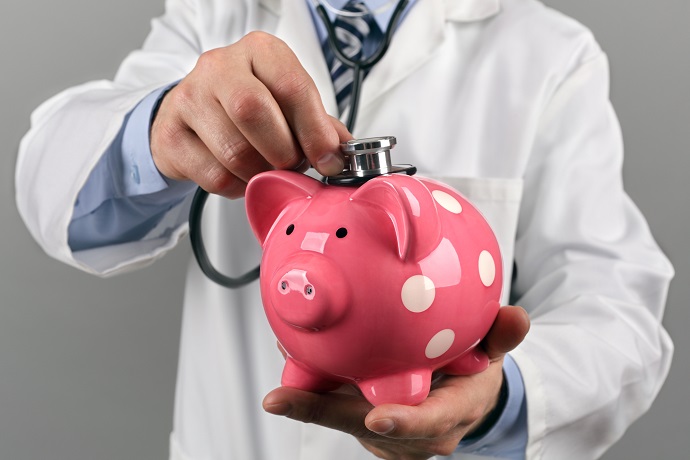 Source: Thinkstock
- Medicare spending growth on both inpatient and outpatient services hit an all-time low for the first time in 17 years, with inpatient hospital costs notably decreasing by 1.9 percent since 2015, the American Hospital Association (AHA) recently reported.
"Hospitals and health systems are where the most complex care is provided for ill and injured patients," the industry group wrote. "Yet, spending on inpatient and outpatient care has grown more slowly than spending on other health services. Hospitals and health systems have worked hard to make care more effective and efficient."
In general, the AHA found that total healthcare spending has increased since 2013 because of greater healthcare use and intensity of services. The healthcare spending growth per capita rate in 2013 was at about 2 percent, but the rate jumped to around 4.5 percent in 2014 and almost 5 percent in 2015.
Source: American Hospital Association
The organization attributed rising healthcare spending growth rates to the increasing number of insured individuals. About 21 to 22 million more individuals gained health insurance coverage since 2010, the report stated.
READ MORE: What Is Healthcare Revenue Cycle Management?
Total healthcare spending also increased because of the aging population and the prevalence of chronic diseases, such as diabetes and heart disease. The patient populations generally required more healthcare services.
Despite overall healthcare spending boosts, the AHA found that hospitals and healthcare systems better controlled healthcare costs.
Based on the Hospital Producer Price Index, the organization reported that hospital price growth was only 0.9 percent in 2015, representing the slowest rate since 1998. The AHA added that the rate also decreased from 4.4 percent in 2006.
Source: American Hospital Assocation
A cited December 2016 Health Affairs study also revealed that hospital spending growth was slightly lower than overall healthcare cost increases. Hospital spending growth in 2015 was 5.6 percent, whereas the overall average growth was 5.8 percent.
READ MORE: Preparing the Healthcare Revenue Cycle for Value-Based Care
While hospitals and healthcare systems worked to become more efficient, the healthcare organizations still faced a number of challenges with increasing input prices. The most common inputs affecting healthcare cost reduction strategies were staff compensation, prescription drugs, medical devices, and health IT implementation.
First, healthcare staff compensation and benefits represented the largest percentage of inpatient hospital costs. Wages and benefits accounted for almost 60 percent of inpatient hospital costs in 2015, whereas products, such as food and medical instruments, were just 14 percent of costs, prescription drugs about 7 percent, and other services, including professional fees and utilities, about 20 percent.
Source: American Hospital Association
Staff compensation may have the greatest impact on hospital inpatient costs, but recent staffing shortages also troubled healthcare organizations. Healthcare executives ranked staffing shortages as their top challenge in fall 2016, representing a 42 percent increase since spring 2016, a Premier survey showed.
Almost two-thirds of the C-suiters surveyed said their organizations do not have the number of primary care providers necessary to meet healthcare needs in the next three years. Another 51 percent also reported that their organization does not have an "adequate" supply of healthcare extenders, such as nurse practitioners and physician assistants.
READ MORE: Medicaid, Medicare Reimbursement $57.8B Below Hospital Costs
As hospital leaders seek more healthcare professionals, employee compensation may further impact hospital costs.
Second, the AHA found that significant prescription drug spending increases challenged hospitals and healthcare systems between 2013 and 2015. Inpatient prescription drug spending grew by 38.7 percent per admission in the period, totaling about $990 per admission on average.
Source: American Hospital Association
The prescription drug spending growth had a substantial effect on hospital cost containment strategies. About 90 percent of hospitals in an October 2016 AHA survey stated that increases in inpatient prescription drug spending had a moderate or severe impact on the organization's ability to manage healthcare costs.
The industry group attributed spending increases to prescription drug rate hikes, rather than hospital utilization. Prescription drugs that increased in price were typically not innovator drugs and about half of the 28 drugs studied did not have an active generic alternative, forcing hospitals to purchase the medication at the higher price.
Third, increasing medical device costs continued to spell trouble for hospitals and healthcare systems looking to decrease care costs. The AHA revealed that life-saving devices, including cardiac defibrillators, generally cost more than $20,000. More complex models, though, were nearly double the price.
Even common medical devices strained hospital revenue cycles, the study indicated. More common devices, such as artificial knees and hips, still cost hospitals over $5,000 on average.
Lastly, the AHA uncovered that health IT implementation significantly cost hospitals and healthcare systems in the last couple of years. The report showed that hospitals collectively spent more than $47 billion each year from 2010 to 2014 on health IT.
EHR implementation significantly contributed to high health IT costs. An August 2016 MGMA report specifically calculated that EHR implementation alone cost physician practices up to $32,500 per physician in 2015.
Many healthcare organizations, however, could not avoid boosting health IT investments, especially for EHR systems. EHR Incentive Programs and even the new Merit-Based Incentive Payment System under MACRA contained incentive payments and penalties based on levels of certified EHR use.
The MGMA report also showed that health IT costs in general also increased by 40 percent.
Even though hospitals and healthcare systems faced significant cost containment challenges, the AHA still identified them as "leaders in controlling costs in the healthcare sector."