House Reps Aim to Stop $1.6B Hospital Payment Cut for 340B Drugs
Two Representatives introduced a bill to reverse a recent CMS rule that will cut Medicare reimbursement to hospitals in the 340B Drug Pricing Program by nearly 30 percent.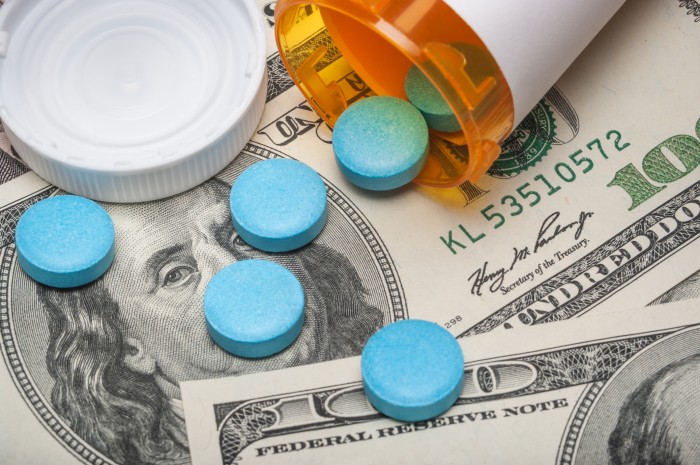 Source: Thinkstock
- A new bipartisan bill intends to block CMS from enforcing a $1.6 billion Medicare reimbursement cut under the 340B Drug Pricing Program.
Representatives David McKinley (R-WV) and Mike Thompson (D-CA) introduced H.R. 4392 last week. The bill would reverse hospital reimbursement changes to the 340B program detailed in a recent ruling on 2018 rates for the Medicare Hospital Outpatient Prospective Payment and Ambulatory Surgical Center Payment Systems.
The rule finalized a Medicare reimbursement cut of nearly 30 percent to hospitals purchasing and administering prescription drugs under the 340B Drug Pricing Program. Reimbursement rates will switch from average sales price plus 6 percent to average sales price less 22.5 percent starting in January 2018.
CMS stated that the payment reduction would offset the rising cost of prescription drugs, which ends up as a significant cost burden to Medicare beneficiaries.
Representatives McKinley and Thompson intend to prevent the payment cut to ensure rural hospitals can still access the financial support to provide prescription drugs and additional services to underserved and vulnerable patient populations.
READ MORE: Leveraging Group Purchasing for Hospital Supply Chain Management
"Protecting access to prescription drugs for low-income communities should be a priority," Representative McKinley stated in a joint press release. "Unfortunately, CMS's misguided rule jeopardizes the ability of rural hospitals to provide vital services. This would have a huge impact on West Virginia hospitals' ability to provide affordable care."
Both Representatives led a bipartisan letter to CMS in September 2017. Representative Thompson and McKinley, along with the support of 250 other policymakers, urged CMS to not finalize the proposed 340B Drug Pricing Program payment cuts.
The group argued that the "misguided policy will directly limit the ability of hospitals to offer necessary services to vulnerable patients and their communities, especially low-income individuals and rural communities."
Not only does the 340B Drug Pricing Program provide discounts on prescription drugs to hospitals that disproportionately treat more uninsured and low-income patients, but the savings generated from the program help hospitals to invest in enhanced services.
The policymakers also contended that the claim from CMS that the payment reduction would address rising prescription drug rates was flawed.
READ MORE: Overcoming Rural Hospital Revenue Cycle Management Challenges
"While CMS states that its goal is to reduce Medicare beneficiaries' drug copayments at 340B hospitals, many Medicare patients do not pay their own copayments," the letter stated. "According to the Medicare Payment Advisory Commission's analyses, 86 percent of all Medicare beneficiaries have supplemental coverage where their copayments are paid by others."
Another 30 percent have their copayments paid for by a public healthcare program, such as Medicaid, or a Medigap plan, the Representatives added.
"We believe this recommendation would not benefit many Medicare beneficiaries, including dually eligible Medicare beneficiaries," they wrote.
Healthcare organizations voiced similar concerns with the Medicare reimbursement reduction under the 340B Drug Pricing Program.
"For my hospital alone, implementation of this regulation would reduce our savings by $3 million a year," explained Matthew Perry, President and CEO of Genesis Healthcare System, which serves rural communities in Ohio. "This would seriously jeopardize the system's ability to serve as its community's healthcare safety net and could force it to cancel critical services such as opioid addiction treatment, cancer treatment, and behavioral health programs."
READ MORE: 4 Healthcare Supply Chain Management Tips for Revenue Success
The payment cut would also impact urban medical centers. "Our patients would face higher costs, less access to care, and we could lose the ability to assist them with transportation, care navigation, and other valuable services," said Benjamin Li, MD, Director of the MetroHealth System Cancer Center in Cleveland, Ohio. "We cannot simply absorb an $8 million cut."
In response to hospital concerns, the American Hospital Association (AHA), America's Essential Hospitals, and the Association of American Medical Colleges (AAMC) recently filed a lawsuit against CMS regarding the reimbursement cut.
"I'm disappointed that CMS did not listen to hospitals, nor a majority of members in the House and Senate, and approved a rule that puts both hospitals and patients at risk," stated Representative Thompson. "I will work with my colleagues on both sides of the aisle to stop this rule and ensure the 340B program can continue to serve low-income populations as Congress intended."
On the other hand, supporters of the 340B Drug Pricing Program changes argued that payment cuts would stop care from shifting to more expensive hospital outpatient settings.
A recent Berkeley Research Group study commissioned by the Pharmaceutical Research and Manufacturers of America (PhRMA) found that Part B reimbursement increased at 340B hospitals from 2008 to 2015 for three medications, while the share of payments made to less expensive physician offices declined and the portion received by non-340B hospitals was relatively the same.
The shift to hospital outpatient settings has particularly impacted cancer care costs, stated Ted Okon, Community Oncology Alliance's Executive Director.
Hospitals in the 340B Drug Pricing Program conducted almost three-quarters of oncology practice acquisitions in 2014 and 2015. Hospitals are incentivized to acquire physician practices to receive the discounts.
"More than a decade of data have consistently shown that hospitals are a tremendous driver of excessive spending on cancer care," Okon stated. "Congress and the administration need to step forward and address this by reining in abuses of the 340B program and implementing site payment parity. It is crazy that our country continues to push more and more cancer care into the much more expensive hospital setting as we seek ways to reduce runaway healthcare spending."
The bipartisan bill that could reverse the CMS decision to cut 340B rates had been referred to House Committees.