Implementing Value-Based Healthcare Revenue Cycle Management
At Xtelligent Media's Value-Based Care Summit in Chicago, two providers explored how to implement a value-based healthcare revenue cycle management model within and beyond the facility.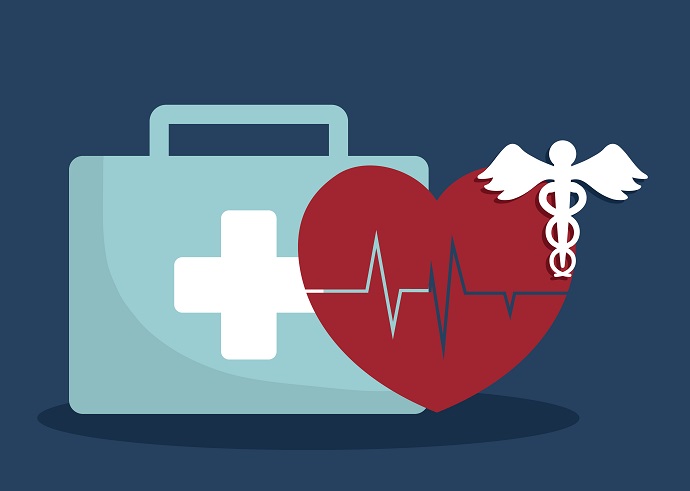 Source: Thinkstock
- To align healthcare revenue cycle with value-based reimbursement, healthcare organizations should start by breaking down clinical and financial siloes established by fee-for-service payment models, agreed presenters at Xtelligent Media's most recent Value-Based Care Summit in Chicago.
Value-based care re-designs must foster a culture of care management across the continuum, emphasized Carmela Roberts, JD, CEO and Administrator of Valley OB-GYN Clinic in Michigan, and Chad Sackman, RN, BSN, MBA, Chief Operating Officer of Signature Medical Group.
"It is really getting everybody to pull together and breaking down siloes," Roberts told attendees of the healthcare revenue cycle management workshop. "People are not used to having to work together. They are used to being in that linear pattern. The front-desk does not want to do other things. Your nurses are set to do what they have always done. The doctors are still in the episodic care mode."
For Roberts, promoting collaboration among existing clinical, operational, and financial staff was key to developing a value cycle instead of a traditional healthcare revenue cycle.
The value cycle encompasses all processes that aim to optimize clinical, operational, and financial opportunities to achieve the best health outcomes at the lowest cost. It includes the traditional revenue cycle management components, such as pricing, charge capture, claims management, and compliance, and adds data addressing care quality, patient satisfaction, clinical outcomes, operational efficiency, and risk management.
READ MORE: Preparing the Healthcare Revenue Cycle for Value-Based Care
In contrast, the traditional healthcare revenue cycle functioned in a linear manner. Under fee-for-service payment structures, revenue cycle started with patient access, journeyed through service, charge capture, and coding to end in either claim reimbursement or claim denials management.
Source: Carmel Roberts, Valley OB-GYN Clinic CEO
However, the value cycle overlaps clinical, operational, and financial functions. At the foundation of the value cycle is the superbill, Roberts explained.
Source: Carmel Roberts, Valley OB-GYN Clinic CEO
"The superbill, or our chargemaster data, is where you're translating every service you are providing," she explained. "That's where it's translating everything that you are doing to your payment."
As a result, the superbill ties charges to clinical outcomes so providers, payers, and patients understand the value of services rendered. Using data from operational and financial teams in conjunction with clinical data allows organizations to implement population health management, which is at the heart of most value-based reimbursement models.
Although a care team approach is critical to gathering all the necessary data for superbill and value cycle management in a central location, Roberts added.
READ MORE: Best Practices for Value-Based Purchasing Implementation
"With that charge capture, we are going through and taking that out of your hands to develop a multi-disciplinary method, including everyone from the billing department to physicians and nurses and everybody along the way and we are constantly reviewing it," she said.
While the value cycle breaks down clinical, operational, and financial siloes to create a superbill, it also permits care teams to assign responsibilities to one department. With defined responsibilities, care teams can efficiently achieve a common goal of delivering high-quality, cost-efficient care.
"Though they could do any templates they want, we have a centralized template committee for our EHR and they are the only ones that touch it so we can keep our hands on this," Roberts stated as an example. "We only have one template that everyone is using that I have to go back and map the charges to. If they are not collecting the right review of systems or their PE type is off, then I can fix it."
Consequently, the multi-disciplinary nature of the value cycle allows the healthcare organization to align every workflow change with care quality goals.
However, a major challenge with the value cycle transition that Roberts and her colleagues at Valley OB-GYN Clinic faced was breaking down the provider versus business owner roles.
READ MORE: How Value-Based Reimbursement Affects Physician Productivity
"The whole premise of this is that you still have to get paid and that's not terribly popular," she said. "I have a board of physician owners that love being doctors. They don't love being business owners."
"Getting them to put a business hat on in the boardroom has probably been one of our biggest challenges," she continued. "We try to make them feel like these changes aren't because of their competency or their values, but that it is an effort to really develop and expand the relationship you have with that patient and still be able to make money."
While promoting clinical and financial staff to collaborate within an organization facilitates alignment between the healthcare revenue cycle with value-based reimbursement, extending the care management culture to post-acute care facilities is also essential, added Sackman, a Medicare Bundled Payment for Care Improvement (BPCI) convener.
The Medicare bundled payment program "changes the thought pattern of orthopedic surgeons," he said.
"They were really focused on the surgical part and the post-acute cost was not in their mindset unless the patient had a bad experience or a readmission," he continued. "In this model, it changes the paradigm and realigns the physicians to engage in total care, including the post-acute side, which is really where care management is most important."
Under the BPCI initiative, Diagnostic Related Groups (DRGs) trigger a care episode and the hospital Convener Group is then financially accountable for 90 days of care. For Signature Medical Group, the bundled payment models are triggered by orthopedic DRGs.
Sackman and his colleagues at the medical group recognized that the costs of the DRG in the acute care space did not present an opportunity for cost improvement based off the current payment structure for DRGs. For example, the acute costs for a managed total joint replacement surgery under the bundled payment model was the same as an unmanaged surgery.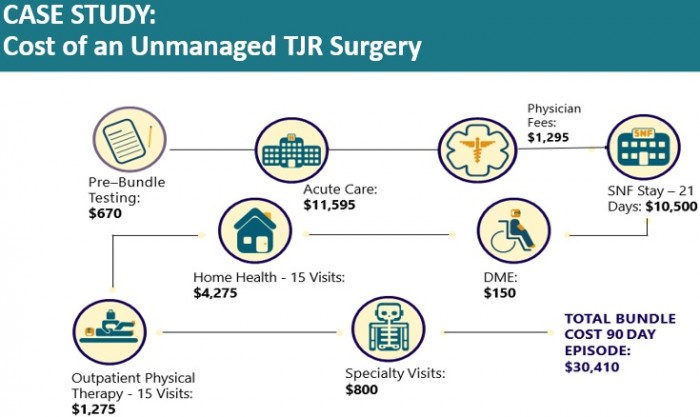 Source: Chad Sackman, Signature Medical Group
Source: Chad Sackman, Signature Medical Group
However, the post-acute care costs were dramatically lower under a managed total joint replacement surgery.
"When we looked at the claims data, a lot of the costs were post-acute costs because certain cost you cannot make many adjustments with, but post-acute, skilled nursing facility (SNF), home health visits was where you could make some major improvements," he stated.
To reduce post-acute care costs and align the entire revenue cycle with the value-based reimbursement model, Signature Medical Group targeted the post-operative period for improvements.
The medical group worked with physicians at participating practices to ensure orthopedic patients were discharged to the most appropriate post-acute facility and their practices only engaged with high-quality preferred post-acute care providers.
Finding the right post-acute care facilities was not always easy for Sackman and his medical group. Despite potential care quality and cost saving opportunities under the bundled payment models, many post-acute care facilities feared losing revenue.
Medicare still primarily reimburses post-acute care providers on a fee-for-service or per-diem basis. The facilities can maximize reimbursement by treating patients longer.
But Signature Medical Group offered to align post-acute care providers with value-based reimbursement.
"With the SNF providers, we took best practices and came up with protocols with the goal of reducing lengths of stay to five to ten days from 21 days," he explained. "Obviously, you get some push-back because everybody is trying to maximize what Medicare will pay for post-acute costs, which is how the fee-for-service system is set up."
"The opportunities for them are that the SNFs that figure how to work with us are going to be successful in the new world," he continued. "They are the ones that have good outcomes, so they are probably going to get some additional volume from that. They will be a frontrunner in the SNF community by providing value-based care not just for orthopedic, but for other episodic bundles."
As a result of their post-acute care efforts, Signature Medical Group reduced post-acute care costs for their orthopedic bundled by 32 percent nationally. Thirty-day hospital readmission rates also dropped by one-third.
In addition, the medical group was able to extend their value-based healthcare revenue cycle management technique for the Medicare bundled payments to the post-acute space, which was not traditionally managed with hospital operations.
While Roberts explored how healthcare revenue cycle can align with value within a single organization and Sackman addressed how larger systems can achieve this goal, they both agreed that now is the time for healthcare providers to implement value-based revenue cycle management.
From new iterations of the BPCI to the federal government's commit to the value-based reimbursement transition, providers have more opportunity to proactively shift away from fee-for-service before mandates require organizational change.