Innovative Care Models Lower Costs, Improve Health
A new study examined two new innovative care models that are focused on improving the Triple Aim of healthcare.
- Across the healthcare landscape, there are a number of providers that are trying out different payment and care models to better meet evolving regulations and laws, while improving care. Each individual provider is going to find one that works best for them, but being open to change is critical to remaining successful.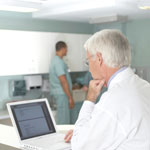 A new report from the American Hospital Association's (AHA) Physician Leadership Forum focused on two specific care model innovations that can be used to help ease transitions across the continuum of care. These are the Perioperative Surgical Home (PSH) and Hospital at Home models.
"As health care delivery continues to transform, care models that partner physicians and hospitals as co-leaders of the clinical enterprise are essential." John Combes, M.D., AHA senior vice president, said in the report.
The PSH is patient-centric and requires a coordinated, team-based approach to create shared decision-making that prioritizes patient's goals and desired outcomes. This improves the preparedness of patients, streamlines the course of treatment for the best surgical outcome and recovery and ensures consistent follow-up. It also addresses cost variation challenges when it comes to inpatient length of stay which impacts managed costs, postoperative care and care needed for clinical complications.
"PHS envisions care that is proactive and ready," the report reads. "Proactive means not wondering why patients are non-compliant or non-adherent, but rather what is it about the care system that is not enabling them to take full advantage of it. PHS's leadership feels models need to transition from ownership of an encounter to ownership of the continuum, as well as move from care that is fragmented to a more coordinated and cohesive approach."
Hospital at Home is a lower cost alternative to traditional hospital admission. It focuses on the aging population and treating chronic diseases and was created by Presbyterian Healthcare Services (PHS) in New Mexico as a way to answer the bed scarcity issues it was facing.
Patients are able to remain in their home, but are treated as if they are in the hospital for issues like heart failure and pneumonia. So far, the readmission rate for patients in the program is less than 3 percent at 30 days and less than 8 percent at 90 days. In other programs, that rate can be as high as 25 percent. The average length of stay in the program also dropped from 4.5 days to 3.2 days. This all adds up to a cost of care that is 19 percent less than if patients were to come to the hospital.
"Healthcare faces opportunity for improvement, particularly in the areas of performance outcomes and patient satisfaction. There are pockets of excellence and care models employed in the U.S. to be learned from," the report reads.
Many healthcare organizations are looking to innovate with the Triple Aim in mind. This means focusing on improving population health, improving the patient experience and reducing the per capita cost of healthcare.