Large Hospitals Fare Worse in Value-Based Reimbursement Model
A Definitive Healthcare report showed that more large hospitals received negative Medicare payment adjustments in 2016 under a value-based reimbursement model.
- Large hospitals averaging approximately 260 staffed beds were more likely to receive a negative value-based reimbursement adjustment under a hospital-specific Medicare program in 2016, according to a recent report from Definitive Healthcare, the leading source for healthcare market intelligence and technology adoption.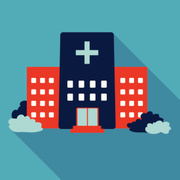 About one-third of participants in the Hospital Value-Based Purchasing Program faced a value-based penalty averaging 0.33 percent of their Medicare inpatient reimbursement. Larger hospitals comprised a significant portion of this group.
The average estimated healthcare revenue lost because of value-based penalties in 2016 was almost $128,000 per hospital, the analysis added.
CMS established the Hospital Value-Based Purchasing Program in 2012 to reward hospitals for providing high-quality care. Hospitals can earn positive, neutral, or negative payment adjustments to their Medicare Inpatient Prospective Payment System rate depending on quality performance and improvement.
The federal agency awards value-based incentive payments by withholding a portion of Diagnosis-Related Group funding for all hospitals. The Definitive Healthcare report noted that CMS withheld 1.75 percent of Medicare funds in 2016, or approximately $1.5 billion, for value-based incentive payments.
While more large hospitals faced value-based penalties, small hospitals with less than 100 beds tended to outperform their larger counterparts, researchers reported. Small hospitals were more likely to earn positive Medicare payment adjustments of over one percent.
The average adjustment rate for hospitals receiving value-based incentive payments was only 0.56 percent and the average healthcare revenue increase for this group was around $90,000 per hospital.
Even though small hospitals earned the greatest adjustments in 2016, the report stated that the highest healthcare revenue earners were larger hospitals with modest rate increases. The larger size of the hospital led to greater value-based incentive payments on an absolute basis despite smaller positive adjustments.
For example, researchers estimated that the Minnesota-based Mayo Clinic Hospital Rochester, a 1,079-staffed bed hospital, would earn over $1.5 million in value-based incentive payments despite a modest Medicare payment adjustment of 0.58 percent.
However, the Mayo Clinic Arizona, a 261-staffed bed hospital, qualified for a 1.54 percent Medicare payment adjustment, but researchers projected the hospital to only earn about $1.2 million in value-based incentive payments.
The data also revealed that the concept similarly applied to hospitals facing value-based penalties under the 2016 Hospital Value-Based Purchasing Program.
For instance, researchers projected a 1,213-staffed bed hospital in Indiana to receive the greatest negative healthcare revenue adjustment of over $1.1 million. Indiana University Health Methodist, however, only received a 0.70 percent decline in Medicare reimbursement.
The hospital with the lowest Medicare payment adjustment of 0.95 percent was Cooper University hospital, a 532-staffed bed hospital in New Jersey. Despite the lowest adjustment rate, researchers projected the hospital to lose $793,783 under the value-based reimbursement program in 2016.
Earlier this week, CMS released 2017 results for the Hospital Value-Based Purchasing Program. The federal agency reported that 1,600 hospitals, representing over 50 percent of total participants, will receive a positive Medicare payment adjustment in 2017.
The hospital demonstrating the highest care quality and quality improvement will earn a four percent value-based incentive payment, while the worse performing hospital will face a 1.83 percent financial penalty.
Most participating hospitals, however, will only receive a modest payment adjustment ranging from a 0.5 percent value-based penalty to a 0.5 percent incentive payment, CMS reported.
"The Hospital VBP [Value-Based Purchasing] Program is part of our long-standing effort to structure Medicare payments to improve care across the entire healthcare delivery system, including hospital inpatient care," CMS stated. "In FY 2017, more hospitals will receive positive payment adjustments, indicating improved quality of care and a strong example of better care, smarter spending, and healthier people in action."
Dig Deeper:
• Preparing the Healthcare Revenue Cycle for Value-Based Care
• Understanding the Value-Based Reimbursement Model Landscape