Medicaid Program Advances Patient Engagement, Interoperability
The push for patient engagement also consists of ensuring greater health IT interoperability among medical providers to ensure fewer medical errors as well as improved patient safety.
- At the HIMSS16 conference in Las Vegas, the Centers for Medicare & Medicaid Services (CMS) will be presenting a discussion revolving around how health IT applications could incentivize patient engagement. The panel discussion will incorporate many of the goals set forth by the Department of Health and Human Services (HHS) Secretary Sylvia Burwell.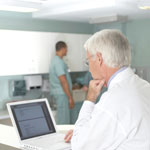 The push for patient engagement also consists of ensuring greater health IT interoperability among medical providers to ensure fewer medical errors as well as improved patient safety and satisfaction. CMS Acting Administrator Andy Slavitt and National Coordinator for Health IT Karen DeSalvo wrote about the importance of enhancing connectivity and interoperability among Medicaid providers in the latest CMS Blog.
Technology has the potential to improve care coordination and connectivity among multiple providers and offer real-time information to physicians when they need it. Health IT interoperability can bring about better patient care through advanced coordination and thereby enhance patient engagement with their own medical care along with improved patient satisfaction.
The lack of interoperability among many medical practices may actually be harming care coordination, explained Advocate Contact Center Medical Director Jennifer DeBruler, MD, in an interview with EHRIntelligence.com.
"Some of the biggest challenges are the different EHR systems everyone is using and there isn't necessarily one link from the hospital to the different doctor's offices that connect everything," DeBruler clarified. "You don't really have access to all of the information when the doctors are not part of your medical group, per se. That is difficult. There are some things set up, but it certainly isn't perfect."
READ MORE: Lean Primary Care Improves Physician Productivity, Costs
"The process of trying to get a hold of other physicians and their offices, to get documentation and counsel, is a big barrier to getting the information needed," she mentioned.
Another important point made by DeSalvo and Slavitt is that technology can play a major role in modernizing and advancing the Medicaid program. The representatives from CMS and the Office of the National Coordinator for Health IT (ONC) have presented a new initiative to provide more interoperable IT products among medical facilities "that have been slower to adopt technology." These facilities include long-term care centers, substance abuse treatment organizations, and behavioral health establishments.
The two federal agencies hope that this move will bridge the gap in data sharing that currently exists among Medicaid providers. States will be allowed to submit requests for 90 percent matching funds from the Medicaid program to connect Medicaid providers and establish greater health IT interoperability within a health information exchange.
The funding is thought to improve the future of health information exchanges and essentially bring greater connectivity among the many Medicaid providers around the country. When payers, Medicaid providers, and the patient community are offered greater IT interoperability, it offers an opportunity for incorporating more patient portals and boosting patient engagement throughout the healthcare field.
"By having more patient involvement, that activation of the patients in their care journey, their longitudinal healthcare journey, we're really looking to leave behind that unilateral decision-making, that white coat paralysis that happens to all of us when go in to see the doctor," Marcia Cheadle, RN, said during a EHRIntelligence.com webcast.
When it comes to strengthening patient health outcomes, it is vital for clinicians and doctors to have "the right information at the right time" and health IT interoperability will be a clear avenue to achieve real-time information.
When the flow of data is not accessible among multiple medical facilities, hospitals, and healthcare networks, it essentially leads to a negative impact on patient care and decreases patient engagement and satisfaction. Health outcomes may actually be subpar if real-time patient information is lacking among hospitals and clinics.
When more specialized medical facilities such as behavioral health or substance abuse treatment centers are connected to a health information exchange, the sharing of vital patient information among multiple medical teams enables doctors to ensure better patient health outcomes.
Technology capable of data sharing among multiple medical facilities will enable "a more complete care team" leading to stronger treatment and prevention strategies for Medicaid beneficiaries, DeSalvo and Slavitt explain.
"The industry needs to evolve from simply exchanging information to meaningfully sharing it and introducing new workflows to access it," said Doran Robinson, athenahealth Vice President of Healthcare Transactions. "We believe that efforts such as Carequality, CommonWell and the Argonaut Project are making marked progress on mobilizing health care information in meaningful and secure ways."
This initiative to improve health IT interoperability among more Medicaid providers is meant to serve and better coordinate care among the 72 million Medicaid beneficiaries ranging from children, seniors, and people living with disabilities. Along with greater connectivity and patient engagement, this initiative is meant to strengthen population health management within the Medicaid program.
Public health reporting will be enhanced as well due to greater connectivity and data sharing among Medicaid providers and federal agencies. Duplicative medical services will be less likely due to real time data sharing. In addition, the CMS and ONC representatives believe that greater IT interoperability will strengthen the move toward adopting alternative payment models such as bundled payments or shared savings through accountable care organizations.
With the HIMSS16 conference taking place this week, it is the right time for healthcare providers to address the importance of health IT interoperability among multiple facilities and its impact on alternative payment models and the healthcare revenue cycle.