Medicare Advantage Value-Based Care Arrangements Up Revenue
Healthcare providers still struggle to see the value in value-based care arrangements with health plans and are hesitant to take on risk.
- Healthcare providers have yet to recognize the significant yet untapped potential of Medicare Advantage value-based care arrangements to increase revenue, according to a study from Deloitte.
Health plans are apparently stressed, increasingly burdened with pressure to manage costs and improve overall quality levels.
Researchers assessed how those health plans participating in Medicare Advantage use it to test value-based care arrangements.
They also analyzed what types of problems came up along the way and identified what defines a leading value-based care arrangement within the Medicare Advantage marketplace.
Four main value-based care findings
READ MORE: AMGA President, CEO Donald W. Fisher, PhD, Passes at 71
The first of four key findings is the majority of healthcare providers are reportedly experimenting with value-based care arrangements in Medicare Advantage.
Healthcare providers confirmed more value-based care activity with traditional Medicare compared with Medicare Advantage plans.
One-third of all Medicare beneficiaries are reportedly in Medicare Advantage plans. Profit margins apparently remain steady at around 5 percent.
Second, health plans reported greater value potential in Medicare Advantage.
"Most health plans' overall VBC strategy is strongly aligned across commercial and MA lines of business. However, MA's high per-member/per-month (PMPM) costs and disease burden can present greater opportunities for savings and quality improvements," the study explained.
READ MORE: High-Cost Patients Widely Distributed Across Hospitals, Markets
Third, the study confirmed Medicare Advantage value-based care strategies are influenced by federal policies, initiatives, and regulations.
"Aspects of the MA program that help health plans optimize revenue (e.g., quality bonuses and risk adjustment) are important drivers of VBC strategy in MA."
"Medicare Star ratings bonuses and other quality-focused initiatives encourage a systematic approach to quality improvement that is best achieved through health plan and provider collaboration."
Lastly, Deloitte said healthcare providers still face a variety of challenges. Healthcare providers are not necessarily open about value-based contacting in Medicare Advantage.
"Provider respondents acknowledge that VBC arrangements can lead to higher-quality care and patient satisfaction, but many are skeptical about VBC's impact on cost, their bottom line, and staff satisfaction," researchers claimed.
READ MORE: House Reps Address Physician Shortage in Medicare Residency Bill
"Few are convinced that VBC arrangements with health plans are a win-win. As a result, many providers are reluctant to take on risk, which has slowed adoption of VBC models."
Most health plans are embracing value-based care contracting
Ninety-three percent of health plan respondents reportedly have a value-based care arrangement in place.
Patient-centered medical homes (PCMH) were the most common arrangement, said Deloitte. Sixty-seven percent said they have a PCMH arrangement in their Medicare Advantage population. Nearly three-quarters have one or more PCMHs in their commercial population.
Nonetheless, many of these arrangements are very new, with only upside-risk for healthcare providers, said Deloitte.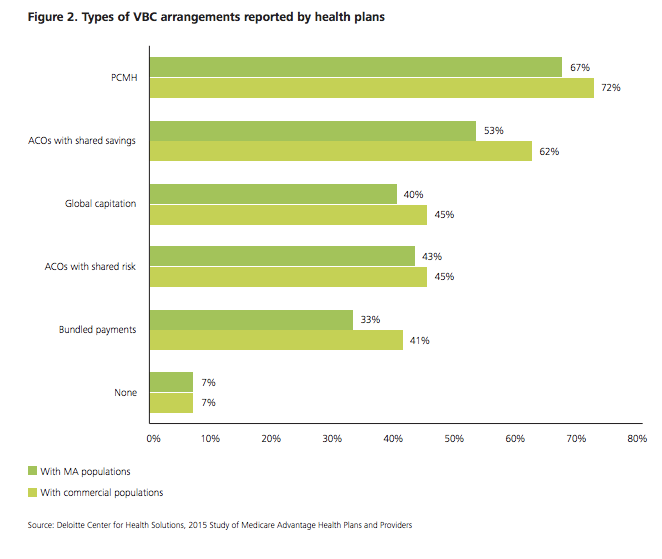 "In-depth interviews with health plan leaders that have implemented PCMH arrangements suggest that while PCMH arrangements differ, health plans often structure them as a modified FFS reimbursement model, which makes adoption easier both for physicians and for health plans," the study said.
"Most interviewed health plans share data with physicians at least once a quarter and make other significant investments, including higher payment rates or additional care coordination fees; health plan-funded staff resources such as nurse care managers and/or pharmacists; and analytics support around clinical integration and population health management."
Medicare Advantage: the good, the bad, the now
These research findings are merely one piece of the Medicare Advantage puzzle. Within the past year or so, Medicare Advantage has seen its ups and downs.
The overall success of Medicare health plans was under fire in 2014 because of violations tied to Medicare's patient-protection requirements.
"It's unforgivable that so many Medicare Advantage plans are still struggling with basic compliance issues," stated John K. Gorman, a former Medicare official, to The New York Times.
Regarding more positive news, Medicare Advantage members may be generally well-informed and satisfied with their healthcare experiences.
Medicare Advantage members reportedly have much greater levels of satisfaction with their plans than those enrolled in commercial programs, according to research from J.D. Power.
"Medicare Advantage health plan members tend to have a more favorable image of their health plan than do members of commercial plans on brand measures of trustworthiness, affordability, reputation and customer-centricity," stated Rick Johnson, Director of the Healthcare Practice at J.D. Power.
"Members pay more to move from Medicare to Medicare Advantage, and the plans and the government do an excellent job demonstrating the value of the Medicare Advantage plan. Members feel the money spent is worth it," he said.
And price stabilization is apparently on the horizon.
The average Medicare Advantage premium is expected to decrease by thirty-one cents this year from an average of $32, according to a September announcement from the Centers for Medicare & Medicaid Services (CMS).
CMS additionally confirmed at least half of Medicare Advantage enrollees will not experience a premium increase.
As future developments come to light, it is hopeful healthcare providers can nonetheless recognize the reportedly great yet untapped potential for Medicare Advantage value-based care arrangements to increase revenue.