Nov. 20: Week That Was in Healthcare Fraud and Malpractice
"It's outrageous that these fraudsters would steal tens of millions of Medicaid dollars ... just to enrich themselves."
- Here is a general roundup of the past week's developments in healthcare fraud and malpractice, as reported by the Department of Justice and the Office of Inspector General. The crimes reported below result in multiple millions of dollars in healthcare fraud and the possibility of extensive prison time.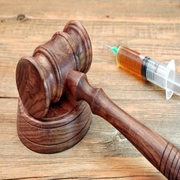 Jury finds home healthcare owners guilty for $80M in fraud
A husband and wife, Florence and Michael Bikundi, are in deep legal trouble this week for using fraudulent money to acquire an impressive luxury car collection.
The owners of Global Healthcare Incorporated, the Bikundis were found guilty by a jury for defrauding Medicaid to the financial tune of over $80 million.
"Over a period of more than four years, Florence and Michael Bikundi raided the Medicaid program of $80 million through massive and systematic fraud," said Channing D. Phillips, United States Attorney for the District of Columbia.
The Bikundis used their fraudulently acquired money to purchase what included a million-dollar home, a $140,000 Land Rover, a $120,000 Porsche, and a $75,000 Mercedes Benz, confirmed Phillips.
"This prosecution reflects our determination to protect taxpayer dollars and the citizens of the District of Columbia. Together with our law enforcement partners, we will actively combat health care fraud."
"It's outrageous that these fraudsters would steal tens of millions of Medicaid dollars meant to provide health care services to poor and disabled individuals just to enrich themselves," said Nicholas DiGiulio, Special Agent in Charge with the HHS Office of Inspector General.
Office manager sent to jail in $50M fraud sentencing
Joe Ann Murthil, a 58 year old office manager of a home health company, was sentenced this week to a 48 month jail sentence for leading a $50 million fraud scheme in New Orleans.
Murthil was ordered to pay over $14 million in addition to serving a prison sentence. Murthil, who worked at Memorial Home Health Incorporated (Memorial), was involved with illegal kickback payments and the submission of false Medicare claims.
For approximately 7 years beginning in 2007, Memorial submitted over $56 million in claims to Medicare. Most of these claims were fraudulent, said the Department of Justice. Medicare paid over $50 million regarding these claims.
PA doctor charged with trying to defraud the FDA
William J. O'Brien III of Philadelphia, a former doctor of osteopathic medicine, was charged this week with conspiring to both defraud the Food and Drug Administration (FDA) and commit healthcare fraud, reports the Department of Justice.
According to the indictment, O'Brien constructed hyperbaric chambers – medical devices that allow patients to breathe 100 percent oxygen within a pressurized environment – by welding pieces of a used propane tank together. O'Brien knew doing so did not warrant an approved medical device and nonetheless was potentially harmful to patients, according to indictment charges.
O'Brien caused nearly $15 million in fraudulent claims for "medically unnecessary and potentially unsafe treatments." O'Brien was reimbursed for over $4 million. If convicted, he faces "substantial" jail time.