Potentially Big Financial Healthcare Shake-Ups in 2015
There are several potential news stories in 2015 that could cause problems for the healthcare revenue cycle.
- With the New Year starting up, one of the first things that many organizations do is set the agenda. What are the goals for 2015? What are the challenges? What could surprise us? By knowing the road ahead, it is much easier to chart a course for success.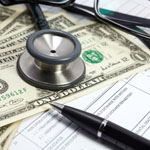 According to the Centers of Medicare and Medicaid Services, the National Healthcare Expenditure is expected to reach $3.207 trillion during 2015. That equates to spending roughly $10,000 per person in the United States. Because this much money is at stake, it is critical to know what potential financial changes could be happening in the healthcare industry over the next 12 months. Here is a roundup of some of the major, potential news stories
Medicare Fee Bump
On January 1, 2015, the temporary "fee bump" for Medicaid reimbursement rates ended. This will lead to a potential reimbursement rate drop of 35 percent to 50 percent depending on the state. With rates dropping, there is a fear that physicians and primary care facilities could start turning away Medicaid patients to avoid the lower payment rates.
King v Burwell
One of the biggest court cases of the year for healthcare revenue cycle solutions is King v Burwell, which will be heard by the U.S. Supreme Court on March 6, 2015. It is a showdown over tax credits in 37 states where the Affordable Care Act is providing subsidies. At risk is the ability to sell health insurance on the federally facilitated marketplace.
"The same Congress imposed conditions on Medicaid funds, which are more important and more entrenched than the new subsidies, belying any notion that the ACA would refrain from conditioning federal funds if they were viewed as highly desirable," the brief said.
The supporters of the subsidies claim they are legal because of the intent of the ACA to provide health insurance coverage to the uninsured, paired with language about creating a federal exchange in the event states are unable to create their own.
Potential Repeals
With both houses of Congress under Republican control and less than two years of the Obama administration left, there is certain to be a ramp-up in the number of full or partial repeals of the Affordable Care Act proposed and voted on.
While it is unlikely that a full repeal will pass both houses, there are some aspects of the legislation that both parties are unhappy with that could be rolled back. These include a requirement that 30 hours per week counts as full time employment, medical device manufacturers tax and a Medicare cost control board.
Children's Health Insurance Program renewal
The Children's Health Insurance Program will be up renewal this year. The program was started in 1997 as a way to provide insurance to low income children whose families make too much money to qualify for Medicaid, but not enough to afford private insurance. It currently covers costs of $13 billion for eight million children.
According to an article from Forbes, advocates are seeking a four year extension. However, it predicts a two year extension is more likely because of the healthcare reform debates and political pressure.