Reimbursement Shortfalls, Uncompensated Care Costs Grew in 2016
AHA data uncovered that Medicaid and Medicare reimbursement shortfalls reached $68.8 billion in 2016 and uncompensated care costs rose to $38 billion.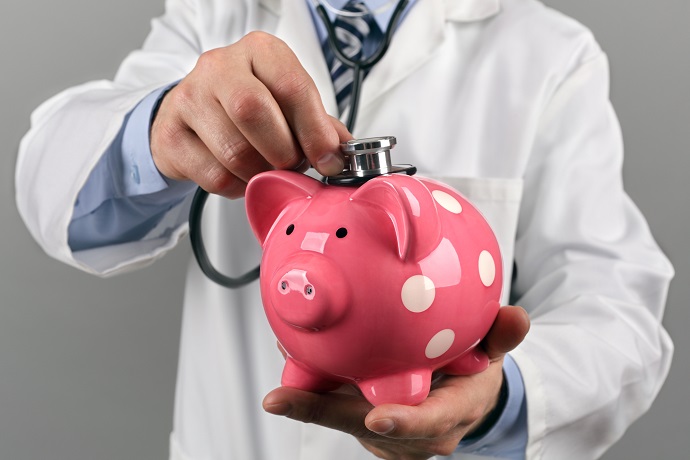 Source: Thinkstock
- Medicaid and Medicare reimbursement in 2016 was $68.8 billion short of actual hospital costs for treating beneficiaries, according to data from the American Hospital Association (AHA).
The information from the AHA's Annual Survey of Hospitals uncovered that the amount Medicare and Medicaid paid hospitals for providing care is significantly less than the amount paid by hospitals for personnel, health IT, and other goods and services needed to deliver hospital care.
That shortfall is also increasing. Last year, the AHA reported that Medicaid and Medicare underpaid hospitals by $57.8 billion in 2015.
The recent growth in Medicaid and Medicare reimbursement shortfalls stemmed from Medicare underpayments. Medicare reimbursement was $48.8 billion less than actual hospital costs in 2016.
With the payment shortfall, hospitals only received 87 cents for every dollar spent to treat Medicare patients.
While not as large, Medicaid reimbursement also faced a substantial shortfall. Medicaid reimbursement was $20 billion short of actual hospital costs and Medicaid reimbursed hospitals for just 88 cents for every dollar spent by hospitals to care for Medicaid patients.
Significant reimbursement shortfalls affected the majority of hospitals accepting beneficiaries from the programs. In 2016, approximately 66 percent of hospitals received Medicare reimbursement less than actual costs.
About 61 percent of hospitals also received Medicaid payments less than actual hospitals costs last year.
Most hospitals had to cover the financial loss of treating Medicare and Medicaid beneficiaries because the majority of hospital patients belong to the healthcare programs. Patients from the Medicare and Medicaid programs represented more than 60 percent of all hospital care.
Non-profit hospitals must also treat Medicare and Medicaid beneficiaries to qualify for federal tax exemptions.
But shouldering the financial burden created by Medicaid and Medicare reimbursement shortfalls was not the only benefit hospitals provided in 2016.
In a separate fact sheet, the AHA reported that hospitals incurred additional uncompensated care costs compared to 2015. Over 4,800 hospitals spent $38.3 billion in uncompensated care in 2016, up from $35.7 billion in 2015.
The industry group noted that the data only accounts for bad debt and charity care. Hospitals perform other services to address identified community needs that may impact uncompensated care costs. The data also does not account for ways in which hospitals offer financial assistance to low-income patients.
Recent uncompensated care costs have declined since hospitals incurred a high of $46.4 billion in bad debt and charity care in 2013. Since then, uncompensated care costs dropped to $42.8 billion in 2015 and $35.7 billion in 2015.
Uncompensated care declines likely stemmed from lower uninsured rates after Affordable Care Act implementation, several studies suggest.
2016 marks the first time in several years that uncompensated care costs increased. And those costs are likely to continue to grow under new health policies.
President Trump recently signed a federal tax bill that will do away with the Affordable Care Act's individual mandate. The health policy in the new law no longer requires individuals to purchase health insurance or face a penalty.
The Congressional Budget Office and the Joint Tax Committee estimated that an individual mandate repeal would boost the number of uninsured individuals by 13 million between 2018 and 2027.
While the federal deficit would decline by $338 billion based on the estimates, hospitals could be facing higher uncompensated care costs. Hospitals may see more uninsured patients seeking care and those patients will be completely responsible for their healthcare costs.
Self-pay patients do not generate as much revenue for hospitals as insured patients. True self-pay patients who are responsible for all healthcare costs typically paid about 6.06 percent on the dollar, while patients who owed out-of-pocket costs under their health plan paid about 15.51 percent, a recent Crowe Horwath study uncovered.
A portion of the uncompensated care costs may be covered by federal programs. For example, the Medicare Disproportionate Share Hospital payment program gives additional funds to hospitals that treat greater numbers of low-income patients.
However, hospitals may see the state version of the same program reimburse far less over the next few years. CMS proposed to reduce Medicaid support for disproportionate share hospitals by $43 billion by 2025.