Sept. 25: Week That Was in Healthcare Fraud and Malpractice
- Here is a general roundup of the past week's developments in healthcare fraud and malpractice, as reported by the Department of Justice and the Office of Inspector General. The crimes reported below result in multiple millions of dollars in healthcare fraud and the possibility of extensive prison time.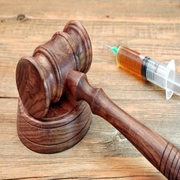 Adventist's $115M False Claims Act allegations settled
Adventist Health System – a non-profit healthcare organization operating among 10 states – will pay the United States $115 million to settle False Claims Act allegations, confirms the Department of Justice. This settlement resolves allegations involving bonuses received by physicians for inappropriate referrals.
"Unlawful financial arrangements between heath care providers and their referral sources raise concerns about physician independence and objectivity," states Principal Deputy Assistant Attorney General Benjamin C. Mizer, Head of the Justice Department's Civil Division. "Patients are entitled to be sure that the care they receive is based on their actual medical needs rather than the financial interests of their physician," he adds.
"Adventist-owned hospitals, such as Park Ridge, allegedly paid doctors' bonuses based on the number of test and procedures they ordered," says Acting US Attorney, Jill Westmoreland Rose of the Western District of North Carolina. "This type of financial incentive is not only prohibited by law, but can undermine patients' medical care. Would-be violators should take notice that my office will use the False Claims Act to prevent and pursue health care providers that threaten the integrity of our healthcare system and waste taxpayer dollars," Rose maintains.
"Companies that financially reward physicians in exchange for patient referrals – as the government contended in this case – undermine the physicians' impartial medical judgment at the expense of patients and taxpayers," explains Special Agent in Charge, Derrick L. Jackson of the US Department of Health and Human Services Office of Inspector General (HHS-OIG) in Atlanta. "We will continue to investigate such wasteful business arrangements," says Jackson.
As HealthITSecurity.com reported, Adventist Health System was involved in a class action lawsuit in 2013 for violating over 740,000 patients' privacy rights. A judge later dismissed the case.
Doctor indicted for kickback health fraud scheme
Elena Lev Polukhin, MD, has been indicted this week for writing pain medication prescriptions via a healthcare fraud conspiracy involving kickbacks from Best Aid Pharmacy. According to the Department of Justice, "Polukhin is charged with conspiracy to commit health care fraud, soliciting and receiving kickbacks, health care fraud, aggravated identity theft and distribution of controlled substances."
Polukhin referred "virtually every patient" pain-relief prescriptions through the Best Aid pharmacy. Best Aid subsequently submitted false reimbursement claims to both Medicare and Medicaid, thus generating bloated reimbursements. Polukhin was paid by the Best Aid's manager and co-owner, Boris Leo Rabichev, over $40,000 in kickbacks.
Confirms US Attorney Andrew M. Luger, "As charged, this defendant abused her position as a doctor, took kickbacks and participated in a significant fraud of Medicare and Medicaid."
Polukhin wrote unwarranted prescriptions that were not medically needed for pain cream and opioid prescriptions, confirms Luger. "As Minnesota continues to struggle with our pain pill problem, it is cases like this that so clearly demonstrate the lengths to which some will go to abuse the health care system," he explains.
"Minnesota is not immune to the prescription drug epidemic that continues to plague our nation at an alarming rate," says Drug Enforcement Administration Assistant Special Agent in Charge, Dan Moren. "Dr. Elena Polukhin contributed to this epidemic by keeping patients hooked on addictive pain killers and placing an emphasis on generating profits, by fraudulently billing Medicare and Medicaid, versus fulfilling her obligation to enhance the sound mind and body of her clients," Moren says.
Adds Federal Bureau of Investigation Special Agent in Charge, Richard Thornton, "Those who commit health care fraud will be actively pursued by law enforcement. The FBI, along with its partners, will hold health care providers to account if they prey upon those seeking treatment and commit fraud against taxpayers."
Additionally states Lamont Pugh III, Special Agent in Charge at HHS-OIG, "Physicians and pharmacists are entrusted to make decisions that are medically necessary and that are in the best interest of their patients, not for their own personal financial gain."