Using an Alternative Payment Model to Reduce Hospitalizations
UPMC partnered with CMS to develop an alternative payment model that will provide financial incentives for reducing potentially avoidable hospitalizations.
- Are clinical interventions enough to alter provider behavior to align with value-based care? Or are providers more motivated to change because of financial incentives under alternative payment models?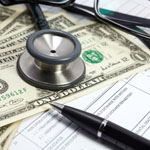 CMS recently partnered with the University of Pittsburgh Medical Center (UPMC) along with five other organizations to uncover what spurs providers to align workflows with value-based care goals, such as reducing potentially avoidable hospitalizations.
Medicare spent about $2.6 billion on potentially avoidable hospitalizations at the nursing home level in 2005. But through the CMS-sponsored RAVEN initiative, UPMC aims to lower both unnecessary hospitalizations and healthcare spending by implementing an alternative payment model targeting nursing home facilities, April Kane, Co-Director of the RAVEN initiative, recently told RevCycleIntelligence.com.
The RAVEN initiative will also tackle how provider behaviors are linked to financial incentives in it's second phase.
"Medicare is going to evaluate if enhanced care services on site plus payment change or if it is just payment change that will produce increased quality of care, reduced expenditures, and potentially avoidable hospitalizations," said Kane. "They are going to be comparing those two groups to another randomly controlled group that we do not know who those nursing facilities are."
READ MORE: Engaging Providers Key to Value-Based Reimbursement Adoption
UPMC implemented the first phase of the RAVEN initiative, a CMS demonstration designed to reduce potentially avoidable hospitalizations in nursing homes through clinical interventions, in 2012. After receiving a $19 million grant from CMS to use in four years, the medical center implemented several clinical projects across 19 unaffiliated nursing homes across western Pennsylvania.
In the first phase of the RAVEN initiative, the core elements of the clinical interventions were employing facility-based nurse practitioners and enhanced care nurses, implementing enhanced medication management and pharmacy engagement strategies, using CMS-developed INTERACT tools, educating providers, and using telemedicine.
By implementing these clinical interventions in nursing homes, CMS reported at the end of the demonstration that the initiative reduced Medicare spending by over $5 million and decreased potentially avoidable hospitalizations by almost 28 percent.
UPMC also lowered all-cause hospitalizations by roughly 26 percent and potentially avoidable emergency department visits by 40 percent.
Building on the success of the first phase, CMS selected UPMC as one of the healthcare systems that would implement an alternative payment model on top of their clinical interventions.
READ MORE: Oncologists Need Data Reporting, Time for MACRA Implementation
"The phase two of the initiative was going to want to build upon the work that we are currently doing, but also implement a novel payment model in partnered facilities," said Kane.
Under the RAVEN initiative's second phase, UPMC will apply the payment reform component to two groups: nursing homes that already implemented the project's clinical interventions and a payment reform-only group.
Medicare will reimburse providers for treating nursing home residents in place rather than at the hospital as well as for enhanced care coordination activities. The initiative's second phase aims to reform how nursing home facilities and providers are paid, which has been a point of contention for many, Kane pointed out.
"What is novel about this is currently if somebody is in a nursing home and they have to go to the hospital, Medicare will pick up their hospital stay," said Kane. "Then, they will be discharged back to the nursing home, where potentially given the disposition, they may be on a Part A stay for a period of time. That's the only time that Medicare, as you know, would pay for some nursing home care is if they are eligible for a Part A stay."
Nursing home facilities and providers in the alternative payment model, however, would be eligible for Medicare reimbursement in addition to Medicaid and private payer coverage.
READ MORE: Value-Based Reimbursement Spurs 8% Hospital Merger Growth
Under the payment reform program, Kane also noted that providers will be incentivized to treat patients at the nursing home for six common conditions that typically lead to unnecessary hospitalizations, which can cost between $8,000 and $12,000 on average.
"They are looking at six conditions, including pneumonia, dehydration, congestive heart failure, COPD asthma, urinary tract infection, and skin ulcer cellulitis," Kane said. "Those six conditions are linked to approximately 80 percent of potentially avoidable hospitalizations among nursing home residents nationally. And, also, these six conditions in many respects can be managed and treated very well within the nursing home setting just the way they would be treated in the hospital setting."
Through the second phase of the RAVEN initiative, Medicare will reimburse at a higher rate for treating patients for the initial acute change in condition at the nursing home. UPMC and CMS intend to eliminate the incentive to transfer residents to hospitals because Medicare will pay at a higher rate.
"Practitioners have said at times, whether it's perceived or not, there's a perceived incentive if somebody is being treated in the hospital by their practitioner," Kane said.
"If a resident was currently transferred to the hospital and they instead saw that resident in the hospital for that acute change in condition, they receive an increase billable rate," Kane stated. "For example, the current Medicare rate for an initial nursing home visit is $137.80. In the hospital, for that same type of initial acute visit, it's $205.82."
Providers in the RAVEN initiative, however, will be paid at the hospital rate for the initial acute change in condition visit when performed in the nursing home.
Additionally, Kane explained that RAVEN initiative providers will also receive payment for care coordination activities under the alternative payment model.
"They are also proposing a second payment for practitioners and it is for what you would call a care coordination conference," said Kane. "We all want our physicians to be as actively engaged in our care as possible and we want them to be there for us to help us know what is the trajectory of my disease, what are my options for treatment, what are their recommendations. A vehicle for that oftentimes within the nursing home is when a care coordination or caregiver engagement conference happens."
Medicare, however, does not reimburse providers or nursing home facilities for care coordination activities.
"Currently, if a physician is engaged in that or involved in that care conference, there's no billable code for them for their time," Kane continued. "Sometimes, depending on schedules or things of that nature, it may be more the nursing staff at the facility that is actively engaged in these conferences, but under this program, again, because we want as much face time as we can with our doctors and our providers."
"It's very important that they are at the table. Under this initiative, Medicare is going to develop a new billing code for them to bill if they are actively involved in this care coordination conference with the beneficiary and/or their designee and/or a member of the nursing facility staff."
If providers in the RAVEN initiative spend at least 25 minutes participating in a care coordination conference in which providers are actively discussing goals of care and treatment options, then they will be reimbursed $77.64 by Medicare.
"This is a mechanism, again, to say to providers how important they are and wanting them to be at the table, but also providing them some payment for their time because their time is very valuable," Kane stated.
With the increased revenue, CMS expects nursing home facilities to reinvest the additional funding into increasing or improving their clinical capabilities.
"The thought is, if you really think of the way healthcare is changing here, we are all being held responsible for a beneficiary's care across the continuum, whether they are in the nursing home, the hospital, or in the community," Kane remarked. "By adding some of these increased incentives back into the nursing home, we are increasing the quality of care that they can provide, but then it's also allowing them to be that player to be actively engaged in that beneficiary's care across the continuum as well. Because they are just as important as our hospital setting and our community setting."
Kane projected that the alternative payment model's financial incentives will also spur nursing home facilities to increase staff education on the six conditions and how they can be effectively managed in place.
In addition, the extra revenue will help to increase buy-in across the board at these nursing home facilities, Kane added. While building relationships between healthcare systems and nursing home facilities to reduce potentially avoidable hospitalizations is the primary goal, financial incentives will bolster these connections.
"The most important thing is trying to build relationships and build trust with those providers so they understand that we're there working collaboratively with them and we're trying to provide whatever support would be beneficial for them," Kane said."
"That being said, some financial incentive is going to be beneficial for the practitioners to see maybe the overall goals and objectives of the program," she continued. "By Medicare implementing and considering various changes in payment they may be able to see how they are critical in the decision-making, which I think many of them already know that, but it may bring it to a different level their understanding of how critical they are in making those decisions for their residents in care."
While the RAVEN initiative led to significant progress reducing potentially avoidable hospitalizations using just clinical interventions, the alternative payment model component will provide needed support for nursing home facilities. With financial incentives, nursing homes may be in a better position to care for their residents in place and save stakeholders a lot of money.
"The facilities are doing a lot of this work and they're doing a lot of this work with decreased resources," said Kane. "Under this model, they'll be able to receive some increased resources for the hard work they are doing and, then, you hope that that will go back in to further strengthen their facility."
"Whenever there are additional resources and income potentially available that definitely helps drive change sometimes," she stated. "Nursing homes works on a very, very small profit margin. We're talking a two percent margin here sometimes. Any little bit of resources that they receive is substantial."
Dig Deeper:
• Understanding the Value-Based Reimbursement Model Landscape
• Preparing the Healthcare Revenue Cycle for Value-Based Care