What are the Challenges of Medical Bill Collections?
42.9 million people have outstanding medical bills.
- Bill collecting has never been an easy job. This is even more true for medical bill collections, with 51.2 percent of collection trade lines coming from unpaid medical bills, according to a consumer credit report survey. It also reports that approximately 42.9 million people with credit records have outstanding medical bills, which indicates the serious challenge that a practice faces when collecting from their patients.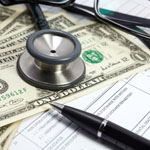 An article from the Medical Group Management Association (MGMA), an association for medical practice executives and leaders, indicate the major challenges for practices to collect are:
The failure of practices to confront and deal with issues;
High deductible health plans
The economy, unemployment and uninsured patients; and
The nature of patient expectations.
For a practice's medical billing collection to succeed, the practice has to first be willing to implement new policies and procedures when necessary. According to MGMA, 94.1 percent of practice respondents offer payment plan options to their patients, but only 25.3 percent of them offer the payment play at the time of service. Instead, approximately 46 percent of practices offer their patients a payment plan option as a last effort before it is sent to a collector.
High deductible health plans are another challenge a practice faces when collecting on medical bills. Higher deductibles may cause problems for revenue cycle managers because patients with higher debt balances are less likely to pay their medical bills.
In addition to higher debt, many patients do not understand their contractual obligations under their high deductible health plans. A report by the Columbia Missourian, agrees that patients have confusion about the medical bills they receive.
"When people fall ill and end up at the hospital with unexpected bills, far too often they have entered into a financial maze," CFPB director Richard Cordray said in a speech to be delivered Thursday in Oklahoma City.
The difficult economy only makes the "financial maze" more difficult for practices and their patients to navigate. Though unemployment has been improving in healthcare, MGMA reported that practices write off 11.3 percent of total accounts receivable from patients in a fiscal year.
"Compound an unemployed patient's loss of income and insurance coverage with the added expense of purchasing COBRA, and collecting from patients gets that much tougher." the MGMA report states.
In previous years, a patient's insurance often covered most of their medical expenses. Patients that were accustomed to lower deductibles often refuse to pay a much higher co-payment.
With the healthcare industry becoming more consumer-focused, a practice's best option to collect is to attempt to make healthcare more affordable and consumer-friendly. A few options mentioned in a  previous article published on RevCycleIntelligence, for providers to make healthcare more affordable are to update their payment policies, stratify their patient population and to augment payment options with a zero-interest revolving line of credit.