Epic Systems Tops List of Hospital RCM Technology Users
A breakdown of Revenue Cycle Management (RCM) vendors used by hospitals for revenue cycle management.
- The healthcare industry finds itself at a turning point in regard to reimbursement. Fee-for-service reimbursement is giving way to alternative payment models that emphasize value over volume, but it remains a financially significant feature that cannot be ignored despite the rise of value-based care.
Depending on the report, investments in revenue cycle management software and services over the coming years are expected to increase by upwards of 15.51 percent. Globally, the total spend on RCM solutions is projected to surpass $7.09 billion.
Financials aside, healthcare organizations and providers have set their sights on improving inefficiencies in their revenue flows by adopting RCM products capable of supporting their work in both fee-for-service and value-based reimbursement environments. As their focus turns to healthcare revenue cycle management, the increased demand will likely lead to increase competition among revenue cycle management vendors for market share.
The forthcoming spending on RCM technology does adequately capture the current landscape of revenue cycle management via technology.
Thousands of hospitals have already invested in RCM technology, according to data from Definitive Healthcare. What follows is a breakdown of RCM vendors currently in use by hospitals in the United States.
A total of 4201 hospitals have RCM technology in place. Hospital types span six categories, from largest to smallest: short-term acute care (2676), critical access (1065), long-term acute care (212), psychiatric (103), hospitals (88), and children's hospitals (57).
Among all these hospitals, the competition among RCM vendors is a two-horse race. Roughly one-quarter of hospitals use Epic Systems RCM technology (1046), followed by MEDITECH RCM technology (865). A host of other RCM vendors have north of a hundred hospital clients using their RCM technology:
CPSI (406)
McKesson (395)
Siemens (235)
Medhost (223)
Cerner (152)
MedAssets (148)
3M (119)
Of the six categories of hospitals in the DefinitiveHC database, Epic Systems took the top spot in three and second place in two.
Several recognizable names make up the top-five list of revenue cycle management vendors for short-term acute care hospitals. Behind Epic Systems and MEDITECH were McKesson, Siemens, and CPSI.
For the next largest number of hospitals — critical access — the list remains relatively the same as for players. CPSI edged out Epic Systems and MEDITECH for the top spot. McKesson and Healthland round out the list.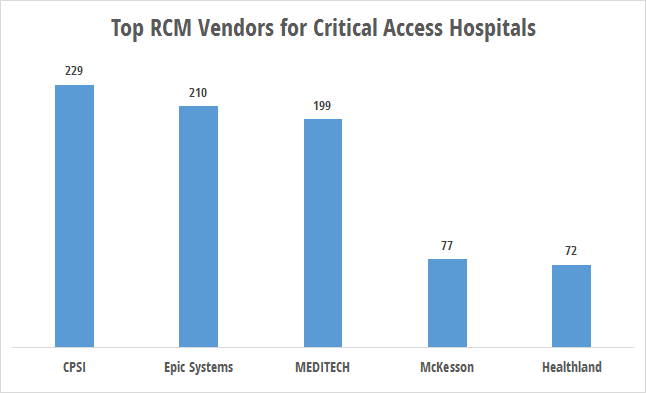 As for long-term acute care hospitals, the top five includes three different competitors — 3M, Medhost, and MedAssets. Epic Systems and MEDITECH remain important players in the space.
The top five revenue cycle management vendors for psychiatric hospitals is a packed crowd, with two knotted up in the fifth spot — McKesson and Netsmart. Additionally, MEDHOST made its only appearance among the top five in this category.
The most used revenue cycle management vendors among rehabilitation hospital also included a new name — NTT Data. The limited number of total rehabilitation hospitals has an obvious part to play in this.
Children's hospitals are the sixth and final hospital type represented in the data from DefinitiveHC. In keeping with their short- and long-term acute care hospitals, the leading revenue cycle management vendors are leading providers of EHR technology — Epic Systems and MEDITECH — likely indicated the use of an enterprise-wide health IT solution.
If the projections for spending on RCM technology pan out, these lists are likely to fluctuate over the next five years — maybe a shakeup is even possible.