ICD-10 Adoption Costs Lower than Previously Reported
New research found the cost of upgrading to ICD-10 for small practices is much lower than projected.
- The International Statistical Classification of Diseases and Related Health Problems (ICD) is in its 10th revision. Better known as ICD-10, it is the medical classification list by the World Health Organization that contains codes for diseases, signs and symptoms, abnormal findings and more. It is used a standard diagnostic tool for health management and clinical purposes.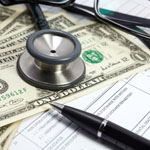 The United States has pushed its deadline for ICD-10 adoption several times, but many practices are looking into what it will take to upgrade their system to ensure they meet any and all requirements. For all practices, this means an investment of time, money and productivity as assessments are run, training takes place, software is converted and testing happens. This can be a monumental undertaking and can be too much for small practices to handle.
However, according to a new report from the Journal of Ahima, current evidence suggests that initial estimates of the cost and effort associated with ICD-10 implementation for small physician offices is much lower than previously reported.
"The new data suggest that the estimated costs, time and resources required by physician offices are dramatically lower than initially estimated as a result of readily available free and low cost solutions offered by coding, education and software vendors," the article reads. "The revised estimated costs for ICD-10 for a small practice to be prepared for the conversion to ICD-10 is in the range of $1,960-$5,900, where a small practice is defined as three physicians and two impacted staff."
There are several parts of the process that are cheaper than previous thought. These include:
Training – There are several reasons for train to have a lower costs. EHR adoption and meaningful use are often clumped together with ICD-10 training. Many of the materials can be downloaded for free and comprehensive training program costs range from $350 to $700.
Software Upgrade – Many vendors are including ICD-10 upgrades in their annual updates for free. Furthermore, government incentive payments are helping physicians adopt new software solutions.
End to End Testing – For smaller practices, vendors handle the testing and physician participation is at a minimum.
Super Bill Conversation – Physicians that use the super bill conversions will have been upgrading their ICD-9 solutions frequently and making the jump to ICD-10 is not that much more involved.
Productivity – A major driver in past reports on cost is the additional documentation requirements and associated reduction in productivity. However, this is based off of the risks of disruption for inpatient hospitals. New data shows that physician practices have progressed and the average time for implementation is one hour or less.
Since the new estimates of the costs for ICD-10 preparation are much lower than originally estimated, the barriers to ICD-10 implementation are much less than originally projected. With proper coding, hospitals can boost revenue by ensuring that they claim for the complete value of their services.