Value-Based Care Analytics Help Cut Healthcare Costs in Utah
A recent study found that a healthcare system in Utah was able to decrease overall healthcare costs by using a value-based analytics tools to present cost information to providers.
- By implementing a data analytics tool that integrates spending and patient outcome data, a Utah-based healthcare system reduced spending by up to 11 percent on three clinical improvement projects, including joint replacement, laboratory utilization, and sepsis management improvement initiatives.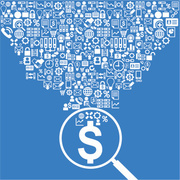 The findings published in the Journal of the American Medical Association showed how presenting clinicians with cost data for certain patient outcomes — beyond what the hospital charges for services — can improve a hospital's bottom line and standardize care across clinical areas.
"In order to provide higher value care, we need to better understand our costs," Vivian S. Lee, MD, PhD, MBA, senior vice president at University of Utah Health Sciences and CEO of UUHC, said in a statement. "We're making the case that an organization can quantify and manage value, and that's going to be a huge part in improving the health care system."
Under fee-for-service reimbursement models, healthcare costs have risen 5.3 percent annually, the study cited. Value-based care and alternative payment models are designed to reduce healthcare spending by connecting provider payments to quality and affordable care, but many providers cannot effectively implement these models without understanding actual healthcare costs and how they relate to outcomes.
In response, University of Utah Health Care (UUHC) researchers developed a data analytics tool that allocates healthcare costs to each patient encounter and provides clinicians with information on patient outcomes achieved per dollar spent. The value-driven outcome method uses the healthcare system's enterprise data warehouse, which contains supply chain costs, patient information, general ledger data, and national quality metrics, to show providers the true value behind quality improvement and low-cost healthcare services.
READ MORE: Leveraging Group Purchasing for Hospital Supply Chain Management
The value-driven outcome tool also scores providers based on a perfect care measure. Providers are assessed using evidence-based thresholds for their quality of care and they can achieve a perfect care score only if the care team performs all quality measures identified for that encounter.
UUHC researchers studied patient outcomes and quality of care relative to healthcare costs from 2012 to 2016 for three clinical improvement projects: joint replacement, hospitalist laboratory use, and sepsis value improvement initiatives.
For joint replacement improvement, researchers developed a clinical pathway in the value-based outcome tool with six quality measures to reduce cost variation in supply and facility use for the high-volume elective procedures.
Using the analytics tool and clinical pathway, the healthcare system reduced costs related to hip and knee joint replacements by seven percent in the first performance year and 11 percent by the second evaluation year.
Quality improvements for the procedures also contributed to greater healthcare savings, researchers added, with the overall decrease in facility utilization and length of stay representing 34 percent of the cost reductions in the second evaluation year. UUHC also renegotiated supply chain contracts to lower overall spending by 41 percent.
READ MORE: Healthcare Costs Rise With Regional Post-Acute Care Variations
UUHC also launched a quality improvement program to decrease unnecessary inpatient laboratory testing. The value-driven outcomes tool, along with clinical education, checklists for providers, and a financial incentive program that shared half of the cost savings with the department, helped providers decrease the mean cost per day for laboratory services from $138 to $123.
The annual healthcare savings related to the laboratory utilization improvement project was over $250,000 per year, researchers reported.
Additionally, UUHC targeted sepsis management as the third clinical improvement project because it was one of the highest-volume procedures with significant cost variations. The healthcare system established an educational campaign that taught providers better recognition and treatment strategies for sepsis. The value-driven outcomes tool was used to monitor progress.
After four months, acute internal medicine providers decreased the administration time of anti-infective agents by 4.1 hours, making sepsis management more efficient.
While the analytics tool helped to reduce overall healthcare costs and improve quality of care, researchers also stated that the tool effectively helped the healthcare system engage physicians in clinical improvement and cost-cutting initiatives.
READ MORE: High-Cost Patients Widely Distributed Across Hospitals, Markets
"While patients as consumers can create market forces to reduce health care costs, clinicians and health care systems have the greatest opportunity, the most knowledge, and the responsibility to improve value," the study stated. "Within this context, there is an alternative, complementary strategy to managing costs while also attending to quality: transparency of cost and outcome data to physicians at the level of individual encounters and conditions."
Continuous feedback from the tool allows providers to develop explicit targets and action plans as well as appropriate supporting tools, the study stated. The peer-to-peer comparisons also helps providers standardize care delivery and further cut costs.
"With component cost analyses, the underlying drivers of cost variability can be identified and allow targeted interventions, such as supply negotiations or staff management in the case of the total joint replacement initiative," researchers wrote. "The capacity to measure the quality and cost implications of interventions in real time facilitates physician engagement and assurance that cost-reduction initiatives can lead to quality improvement and vice versa."
Dig Deeper:
• Preventing Big Data Pain Points During a Healthcare Encounter
• Using Revenue Cycle Analytics for Effective Value-Based Care