Accountable Care Organizations Continue to Grow With 11% Boost
A recent analysis showed that the number of accountable care organizations reached 923 by 2017 and alternative payment model participation also increased.
Source: Thinkstock
- The number of accountable care organizations (ACOs) increased with 92 more organizations operating since the first quarter of 2016, reaching a total of 923 ACOs nationwide by the start of 2017, a recent Health Affairs blogpost stated.
The Leavitt Partners and Accountable Care Learning Collaborative analysis also showed that ACOs covered over 32 million lives by the start of 2017, representing a 2.2 million boost in covered lives over a year.
As a result, more than 10 percent of the population belonged under an ACO contract at the beginning of 2017.
Source: Health Affairs
While the number of ACOs expanded, the analysis revealed turnover as the model matured. About 138 ACOs launched since the first quarter of 2016 and 46 organizations dropped their ACO contracts, accounting for an 11 percent growth rate.
READ MORE: How Pioneer ACOs Earn Shared Savings, Improve Care Quality
In the same period, the number of ACO contracts significantly increased by 166 contracts. The large growth in ACO contracts stemmed from existing organizations boosting the number of accountable care contracts in which they participate.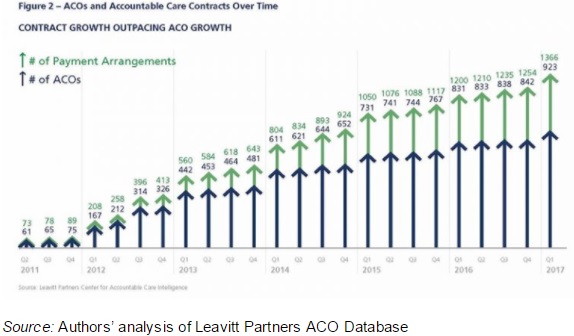 Source: Health Affairs
The ACO contracts ranged across all payer types. But commercial payers saw the most growth with 715 contracts total, covering 59 percent of lives.
In terms of public payers, Medicare ACO contracts accounted for 563 contracts and just 29 percent of covered lives.
Medicaid managed 88 ACO contracts by the first quarter of 2017 and 12 percent of covered lives.
READ MORE: The Future of Accountable Care Organizations Involves Risk
Researchers noted that commercial ACO contracts were more likely to cover additional lives with about 26,700 per contract compared to the next leading contractor, Medicare, which covered an average of 16,800 lives per contract.
Despite a larger volume of commercial ACO contracts, the analysis uncovered similar contract growth rates across all payer types.
In addition, the analysis explored ACO growth by region. The most populous states contained the greatest number of ACOs. However, the organizations expanded to all 50 states, Washington DC, and Puerto Rico by the start of 2017.
Metropolitan areas experienced the greatest ACO growth at the hospital referral region level. Although, 15 regions did not contain an ACO in 2017.
Source: Health Affairs
READ MORE: ACO Incentives, Coordination Improve Complex Pediatric Care
Increases in ACO covered lives varied more by market than overall ACO growth, researchers added. While some hospital referral regions experienced ACO pentation over 30 percent, neighboring regions could have between 5 and 10 percent penetration.
Additionally, researchers reported that alternative payment model participation significantly expanded alongside ACO growth. In particular, providers engaged with more population-based accountability payment models, such as shared savings or risk-based ACOs, bundled payments, and capitated payments.
Source: Health Affairs
With a growing number of providers joining alternative payment models, CMS reported that the proportion of Medicare payments reimbursed through one of the models reached 30 percent in 2016.
The Health Care Payment Learning and Action Network also found that 25 percent of healthcare dollars stemmed from a population-based accountability payment model for commercial, Medicare Advantage, and Medicaid plans in 2016.
Researchers projected ACO and alternative payment model growth to continue.
"Alternative payment models that feature increasing accountability for improving patient care and lowering costs continue to expand," the authors wrote. "Their impact will likely grow as providers are subject to greater risk and develop the competencies to succeed."
Although some factors that may influence ACO and alternative payment model participation include the new policy environment. The Trump administration and Congress members have focused healthcare reform on insurance coverage rather than the value-based reimbursement transition.
However, the acceleration by which policymakers decide to move to value-based reimbursement could hinder or speed ACO and alternative payment model growth.
CMS already slowed MACRA implementation by establishing a transition year in which eligible clinicians do not have to fully report to the Quality Payment Program to avoid a downward Medicare reimbursement adjustment.
The need for more ACO model results may also impact ACO and alternative payment model growth.
"To accelerate progress with ACOs, there is a need for more evidence about which models produce the best results for organizations with different circumstances and characteristics, whether rural or urban, large or small, or physician- or hospital-led," the authors wrote. "To date, there is evidence that a wide range of ACOs can improve measured quality, but fewer ACOs have successfully combined quality improvement with significant spending trend reductions."
Bundled payment models face the same challenge as ACOs, researchers added.
Despite ACO and alternative payment model popularity, providers still faced challenges with implementation.
Issues with how providers can juggle several alternative payment models at once could influence participation. Providers are facing obstacles with how to operate both models for the same patient, including how to attribute cost savings if different provider organizations are involved with care.
"[T]he payment model is not an end in itself," the blogpost concluded. "To achieve better value across the American health care system, more progress is needed to refine and align alternative payment models, and to help all types of health care providers develop the capabilities needed to succeed in them."